Joined

Sep 1, 2012
Messages

1,732
Points

83
Location
Resort or Ski Area

Mammoth Mountain
Date

Apr 15, 2022
Snow Conditions

Powder
Packed Powder
Slush or Spring Snow
Cord
Sticky
Chopped or Crud
Dust on Crust
I'm down with Covid right now, so thought I'd take the opportunity to report on my recent successful (and first ever) visit to Mammoth Mtn, CA. My wife and I made the 550 mile/9 hour drive from Salt Lake City to Mammoth on 14 Apr 22. It was a super remote drive through central NV with over 400 miles on two lane roads. Temps were mild (70s) on the drives so no weather worries and you could go 70+ MPH much of the way in very little traffic.
US Alt 93 south of Wendover, NV
US 6 west of Ely, NV
Boundary Peak (elev 13,140') on US 6 at NV/CA border.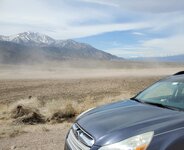 My wife accompanied me and we stayed in a condo near the Eagle Base/Chairlift, but she's a retired skier, so I skied solo this trip. People told me Mammoth was windy. It was windy all four of my ski days there, varying between 25-60 MPH, which impacted lift openings/closures on 3 out of 4 days. I guess the wind is a blessing and a curse. My first day it was a blessing because 2" of overnight snow on Apr 14 skied like 6" of light dusty wind drift in many places on the mtn on Apr 15.
Apr 15 was a sunny day with high temps around 40 degs and the wind was not too disruptive, all the good upper lifts eventually opened in the afternoon. I had a GREAT first day ever at Mammoth. In fact, it was my favorite day of the visit even though more new snow would fall on Apr 16. Mammoth is bigger than Snowbird and a little smaller than AltaBird combined. It keeps more terrain open in late spring than Snowbird.
Good early skiing on Apr 15 under old double chair #12
Mammoth has a few VERY old school lift shacks, I wonder if legendary founder Dave McCoy had a hand in building them himself?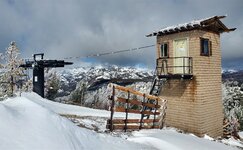 There's a fun life-sized replica of a Woolly Mammoth inside McCoy Station, the mid-mtn lodge at Mammoth.
The highlight of my first day was a bunch of runs I made off chair 23 in the early afternoon. The elevation at the top of this chair is approx 10,500'. The snow was really great (that 6" of windblown dusty snow) all across the slopes you see in photo below and I skied all of them. L-R: Cornice Bowl, Dropout and Wipeout chutes on either side of the liftline, and Scottys to the right. Lift lines were very moderate all over the mtn (it was a Friday), although I had the advantage of taking the singles line whenever necessary.
Wipeout chute from chair 23.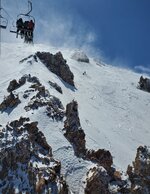 Chair 23 from the top of Wipeout chute, quite a protective structure at the top terminus of this lift, they don't want anyone getting blown off the chair.
Entering Dropout chute, loaded with soft windblown snow and illuminated with nice sunshine, probably my favorite photo of the entire trip.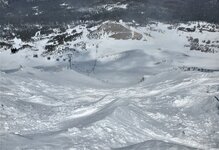 to be continued...
Last edited: