Joined

Mar 2, 2008
Messages

4,200
Points

48
Location
On my way home after the weekend, decided to stop by at a place to get a few hours of free skiing in on my Epic pass. Options were many: Okemo, Mt Snow, Sunapee...
As I've never been to Sunapee, and the opinions on this site suggest it's a nice place ONLY on weekday, I made a decision to give it a try. I'm sure Okemo and Snow would be just as good, but it's kind of familiar ground for me. Why not try something new?
Temperature was mild, their website were boasting "Spring Skiing", though I had my doubts, which turned out to be well founded. I got there a bit after 12. Again, most people were at lunch, the mountain was empty. The east side trails were already soft, and the bottom slushy. Still, I enjoyed cruising about slowly, loving the tranquility. Blue trails barely have the pitch to keep moving in such soft conditions. So sampling of green trails are out of the questions. Some of the blacks were softening up just right, which I lapped. Others were still a mix of ice interspersed with loose snow, which later turned slushy, never quite got to the "right" softness. Actually, not too surprising for me. Having done a lot of spring skiing, I believe it takes more than just a couple nights of free-thaw to make corn. It's not quite right time yet. Just a mixture of soft and hard snow. Still good though.
The view did not disappoint!
And terribly crowded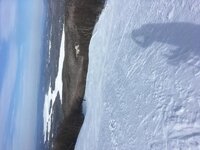 As the east side got too soft and too slow, I moved onto the west side, which was softening up quick. Again, lap a few of the steeper blacks and cruise the blues slowly...
A couple of the trail I kept missing and I somehow ended up on their neighbor, I became obsessed to get to them. That led to my riding the chair back up on 3:58 just so I can say I skied every black and blue at least once!
A solid 3 hr non-stop skiing. Plenty of time to see the whole mountain. Noticed several glades which could be nice in the right condition.
All in all, a nice mountain. I enjoyed the stop.
Last edited: