Joined

Mar 2, 2008
Messages

4,229
Points

48
Location
After spending a good part of the day standing in lines at Jackson, we left early to go back to salt Lake City.
It being Sunday, we opted to go to Deer Vally, in the hope its "ticket cap" would help limit crowding. Moreover, we heard much about the under-skied trees of DV. And we had some beta as to where to go...
The parking was orderly. But for all its glitz, the parking lot shuttle is a open air cattle train! The biting wind was less than pleasent in the morning (I'm more accustomed to the real bus in Copper). Still, it's efficient.
The same can't be said ("orderly") inside the locker room. Mass of people squeezing as best as they could onto the few benches. All the lockers were full too.
Fortunately, the masses seemed to be camping inside the locker. The lift lines were not too bad. And the small crowd seemed to have evaporated once they got off the chair. Though to be honest, the cloud and light snow might have something to do with our not able to see anyone else on the slopes.
We didn't stay on the groomers. Only use them to get to the trees.
How did we find the best trees? We stopped at the top of a couple of chairs and asked the ski host standing in front of the map. Each and every time, the host pointed us the right way. Exactly how to get to the trees, landmark to enter, bear left or right within the glade.
And when we had our fill of a particular patch of glades, we even ask them where else to go, and repeat the same process in the new chair!
We found deep soft snow all over the mountain: Empire, Flagstaff, Lady Morgan. And a bunch of random cutoff between groomers. Some of the glades were pretty big and we didn't see a soul in sight once we were in there. It's almost like skiing in an out of bound forest. The snow were deep and soft. Though not untouched, it skies like it was.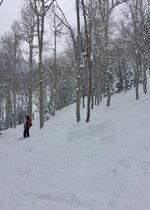 Too bad the days came to an end when we were still having fun.