Hi there,
I am looking into buying some used ski. The skis are 2019 model, so are not very old. Seller says there is some slight repaired damage. Though it looks to me that the damage hasn't been completely filled and there is still some edge exposed. Does anyone have a trained eye and have any advice on this judging by photos? Also, my boots are 27.5 mondo, would redrilling for bindings compromise the skis? The old drill holes for bindings have been plugged.
What seller says regarding damage:
"The skis I'm selling have only been skied five times (no more than 3 hours per session)... The bases have been stone ground after their last ski (ready for sale) and the skis have had a full tune. The only base damage (p-tex damage only, not a core-shot) has been professionally repaired and is shown in the photos. The skis have been mounted once with Salomon Shift bindings for a boot sole length (BSL) of 306mm. Only selling as I needed a longer size (which I now have)"
The photos: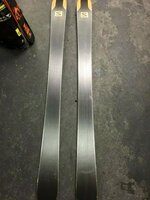 Thanks for your help.
P