Joined

Sep 22, 2008
Messages

3,052
Points

0
Today was a more typical early season day than the phenomenal midwinter conditions of two weekends ago. The intervening warmth/rain & subsequent freezing wiped out the tree skiing and poacher access to an entire powder-covered mountain, though the 2" of freshies from last night helped ease the return to normalcy. The sun occasionally peeked through, like here on Wanatuska-
But it was mostly cloudy, cold (19 degrees on arrival and dropping through the day) and blustery, with snowguns blasting on the upper & lower mountains. Of the small number of customers, almost everyone had face masks on.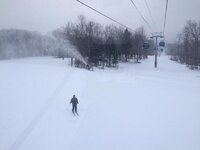 A squall came through around 1:30 but only left a dusting. Every open trail was groomed flat with no moguls to be seen anywhere, though the berms on upper Wanatuska provided some interest. Open upper trails were Roaring Brook, Onandaga, Winisook, Wanatuska, Seneca, Deer Run and Algonquin, shown here-
The Discovery Lodge cafeteria was open & it looks like the rest of the renovations may be completed soon. The Overlook caf was closed but the bar had a handful of items available like a cup of hot clam chowder that warmed me up. With one week to go before Christmas, the temps will be cold enough to continue snowmaking and opening more trails.