Joined

Jan 31, 2011
Messages

432
Points

16
Location
Where: Berkshire East
When: Sunday, February 16, 2014
Conditions: Packed Powder, Hints of Untracked Powder, Machine Groomed, etc...
Had a free pass and decided today would be a good day to use it. I drove up the back way, 8 N to 8A N, forgetting that once you get on the last leg of 8A there is virtually nowhere to pull over to pee. Also the road was kind of slick so the driving anxiety made the pee anxiety worse. I pulled into the parking lot, fortunately 3 rows away from lodge and bolted inside barely making it to the john.
Once relieved, I suited up and made my way to the lift. No waiting. Did a warm-up run on Mohawk to Roy's Way; the snow was squeaky and fun.
Next on to Big Chief: fast and fun cord with a little packed powder and chopped powder on the sides to play in.
I guess I liked it because I did it again but cut over to lower Flying Cloud and really let my skis rip.
Next up was Grizzly, which really lived up to its name. Big soft bumps but also dirt, rocks and brush. It was fun, but only did it once.
Went back to Mohawk but cut over to Chute because it looked like it had some nice moguls. It was my favorite run of the day, did it three times throughout my day and didn't hear a single scratch in the troughs of that run until my last run.
I had never been to B.E. when The Jug was open. It was. So I went. At the very top I saw two people poking around in the snow on the edge of the trail. Apparently the guy stopped to help his woman friend to her feet not realizing how deep the snow was and dropped his pole. It got swallowed by the snow and they couldn't find it. I stopped and helped them dig around. After about five minutes we spotted the basket. Good Samaritan duties done, I continued on my adventure. Cover was definitely thin, bumps were big, boulders were showing through and heard a nasty scrape mid-turn. Had to check my bases, fortunately they were a-ok.
Toward the end of my day I took an easy trip around and ended up on War Dance which had really beautiful soft snow.
On the next to last run I ventured into Blizzard Island which was completely tracked out, but it was a fun adventure for me since I rarely get to ski low-angle glades.
I love Berkshire East...it skis so much bigger that it actually is and always offers a challenge and the vibe is always right on.
Didn't take many good pics. Here's what I got:
From the chair:
Blizzard Island (2 pics)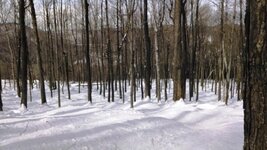 Map of my ski day