Joined

Dec 30, 2003
Messages

3,990
Points

83
Location
Resort or Ski Area

Berkshire East
Date

Feb 28, 2023
Snow Conditions

Powder
Sticky
Chopped or Crud
With the recent purchase of a new house, too much time at work, and the overall lack of winter weather, February almost went by the wayside for me. I planned on Killington today, but with the storm being a total bust I decided to stay home. For some reason, around 10 am I decided to remember Berkshire East exists and the snow report showed most of the hill was open. So, off to Charlemont for a half day I went.
I arrived right around 12:30 to probably the biggest crowd I've ever seen at Berkshire East, including some Saturdays. It was still never more than a 5 minute wait at the Quad, but seeing more than 50 people there on a weekday can be a shock. Naturally, a snow day in a year where there haven't been many brought everyone out of the woodwork.
Majority of my runs were on Liftline. I typically lap this quite a bit anyway, but with the rumors of it being neutered when the new quad goes in, I decided to really enjoy it today. Easily the best liftline trail south of Magic. Not necessarily the hairiest trail ever, but a good pitch and usually good natural snow. Will be a shame if the first half of this is lost.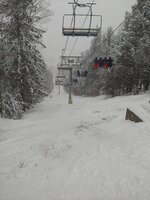 The new snow from today was about 6" at most of wet snow which skied in pretty well on top of the meager couple inches of base from last week's mixed events. Most places would not consider this enough snow to open their glades, but Berkshire East is never afraid to say "have at it". That said, I actually took a few runs down East Glade which was definitely survival skiing but for some reason quite fun. Horaces Grove was not worth a do-over. I did my once-a-trip run through Blizzard Island just to piss myself off with how bad they ruined it with the bike trail through it. Also found a couple unmarked shots in various spots on the hill, some of which were covered quite well!
Trail skiing included Flying Cloud, UMass, Hemlock, and some other smaller sections. I was surprised that almost everything had a solid snowmaking base. Kind of wish one of the steep wider trails could be left au natural to keep it softer, but hey, kudos to them for really doing their best to open up all their main trails. A little slick under foot on those trails, but the new snow will groom in nicely.
Always a fun day when I hit BEast. Will be sad if they ruin Liftline though. Hopefully they leave it alone but not holding my breath.