After 2 days of skiing at Keystone we decided to make the 25 minute drive over to Breckenridge for the day. We had never been there before but I read up on the mountain quite a bit beforehand to try and avoid crowds over the holiday weekend. I thought Friday would be better than Saturday or Sunday and read that Peak 9 would be alot less crowded than Peaks 7 or 8. We pulled into town around 9.30 and had one heck of a time trying to find parking near the lifts at Peak 9. It was around 35 dollars to park where we wanted to but the lot was totally full. The attendant gave us a tip and we luckily ended up right around the corner but if you intend on parking near the lifts you have to plan that out as well. You can prepay parking far in advance to ensure a spot if it's a prime weekend.
In any event we got all booted up and walked a few minutes over to the Peak 9 lift, as we got around the corner I noticed the enormous line to get on that lift. It took around 40 minutes to get on which was a stark contrast to Keystone where we only waited 2 minutes at the most in a lift line the entire trip. Since it was our first time at Breck I was able to go off on my own for a few hours while my wife and son skied the front face of Peak 9 once we finally got to the top. I headed straight over to the E chair which is one of the most challenging areas of Breck. Thankfully there was never a line to get on the E chair!
The pictures below are of Tom's Mom which was right under the chair, the next is Tom's Baby and the last one was on Inferno. As usual, the pictures never give the terrain justice. All the runs off of the E chair are pretty similar and have a 36 to 38 degree pitch with large bumps all over the place. It is a challenging area to ski but unlike some of the steeper terrain in the East, there wasn't an icy patch to be found!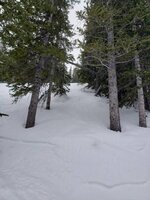 Sent from my SM-T860 using
AlpineZone mobile app