Joined

Dec 10, 2008
Messages

435
Points

16
Location
We broke up the trip from Boston up to Jay for the weekend by driving to Burke on the way up and skiing there before continuing on to Jay after skiing. I can get to Burke in about 2.5 hrs and then it's a little over an hr to get to Jay from Burke. I had a free lift tix from my Champlain Valley ride & ski card and I also have CHAD ride & ski so that gave us 1/2 off on the other ticket. So two adult full day lift tickets for us cost a total of $36.
The skiing was the day before the snow storm hit so they were coming off of the rain from the last week. You could tell. The conditions were kind of meh. Not awful but not great. The "outer" glades trails (Dixieland, Jungle, Birches) were all closed. I was disappointed in that because from skiing the other stuff on the mountain I had to wonder how those trails could be "worse" than what we were skiing in other glades. Late in the day we ducked the rope on Dixieland and it was as skiable as the other glades. Throbulator and Caveman glades were in OK shape and were fun to ski. My last run I did Powerline into Caveman. The snow had finally started to soften and I got a great spring-like run thru those. Too bad it didn't warm up earlier.
I have no intel about the glade closing but it is in line with the overall vibe of the mountain. It really felt like they just didn't want to have to sweep those trails at the end of the day and figured that no one was there anyway so it wouldn't matter if they opened or closed them. I am trying not to read too much into a Thursday late in the season with so-so conditions, but the place was dead. It had an overall vibe of neglect. Which is to be expected when you're bankrupt/receivership. There didn't look to be anyone at the hotel. It was ski on lifts all day. At 1030AM I parked my truck across from the stairs up into the lodge.
It was just a little bit sad as it is a mountain that has a lot to be offered. Hopefully their situation will get better with new ownership and not end up NELSAP.
Pics:
Dixieland (does this look like it should be closed?):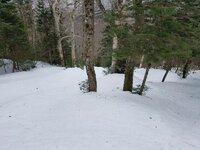 Caveman:
Hotel looking pretty quiet. Also note the liftline. This is at around 1130AM:
Powerline: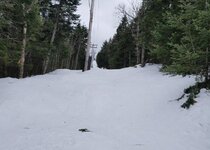 Wilderness: