Joined

Jan 26, 2013
Messages

262
Points

16
Location
At the end of last season I purchased the Bold and Beautiful pass at Cannon which also gives weekday access to Bretton Woods. The Bretton add on was a nice extra but not one that I was looking for (I wanted cheap midweek access to Cannon and early/late weekends). I had only been to Bretton once a few years ago on a very cold day. I found it a great blue square kind of place with some fun glades. Nice place but not someplace I would drive the extra distance to without a reason. Now that my spouse is taking up skiing, a reason, I thought I would check it out again to see if a day trip was in order with him.
Skied Cannon from open until about 12:45 then headed to BW. Cannon in the morning was great. Zero wind and temps in high 20s to 30s. Weather was interesting though, cloud layer would move up and down the mountain between runs. It could be clear up top then you could come back half hour later and some trails would have slightly reduced visibility. Soft corduroy on most things up top although Vista has not been recently groomed as far as I can tell. Avalanche was also not groomed in the Front area. Things skied great in the morning. Coverage was good but a few ice patches were here and there before I left particularly in one area of Upper Cannon but not bad at all. Overall a really enjoyable morning with low crowds and good conditions. I kind of regretted mentioning my scouting mission at home because I could have stayed for a few more hours.
Bretton had great coverage and no ice I could find. It was even more mellow than I remember but I can see the draw for many. Blue skies and great views of Mt. Washington today. Not busy but it seemed like more people than Cannon. Some glades were being skied but coverage was thin. They really seem to clean out the glades there but they like everyone else need more snow before I would want to charge through them. I am no expert in glades so when conditions are good I would like to get back to BW to spend some time in theirs.
Looking down Vista:
Looking up Vista at coverage: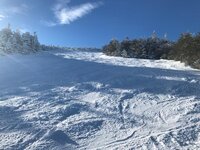 Corduroy on Skylight:
View from Bretton Woods: