Time Skied: 9-4
Conditions: Granular and hardpack
Weather:
AM: 10-15 degrees with clouds and flurries
PM: 15-20 degrees with a snow shower
Pulled into the first row of the parking lot at 8:40. Saw that Off Stage was being groomed after a dose of snowmaking last night. Snow was fast all day. A classic Northeast ski day conditions wise. Fast groomed to a slippery, icy surface that gets worse throughout the day. I made the most of it. Lot's of laps down Glade and Catamount. I did Off Stage twice. On a scale from 1 to 10 it was a 2 in the am run, then a 3 in my afternoon attempt. It was horribly groomed. Death cookies to the sides and an unedgable groomed center. After lunch a persistent snow shower started. Coated the ground and made it feel more like winter. Crowds were never that bad, even when the Medows triple closed midday (I don't know why), but it reopened. Was skiing up the load line by 2.
FYI: The halfpipe has been removed and is now a new beginner trail, Bobcat.
BIG NEWS: The snowmaking onslaught has commenced on Catapult! Saw the magical snowmakers performing their pre-snowmaking rituals in the morning (checking hoses, pipe connections, etc.). At 1pm they had the top 1/4 of the trail lit up, and by 4 they had every gun going! Love you guys

The silent guns await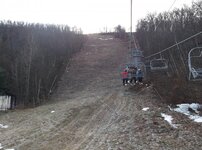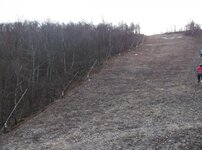 And so it begins...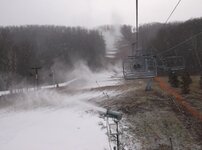 Glade and Chute look'in good