Joined

Jun 3, 2008
Messages

24,840
Points

0
Website
Continental Mountain King UST Tubeless Tire - 26in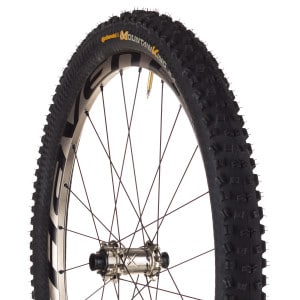 The Mountain King UST is a fantastic all-mountain tire, especially when you run the 2.4-inch on both ends of your bike. For general purpose trail riding, pair the larger tire with the narrower 2.2-inch Mountain King UST in the rear, or for marathon racers who prefer a bit more speed, with the lower-knobbed X-King 2.2 UST as the back tire.
Continental revised the UST Tubeless Mountain King tread pattern so that it's more open, with stronger, taller side knobs for more sure-footed cornering, especially on hard pack. This allows the tire to conform to the ground more readily, aiding both wet and dry grip. And because it's a UST tire, the Mountain King can be run without a tube, with or without a sealant, and has a special bead specifically designed to be paired to UST rims for a perfect seal every time, all the time.
Important: Although you can also run a UST tire on a non-UST rim, you won't achieve the same level of sealing because the rim won't be designed to wed with the tire bead as readily; there are conversion kits that allow you to turn a non-UST rim into a tubeless-ready setup, but they do nothing to change the design of the rim edge, which is the key UST innovation.
Another point: Running the larger volume 2.4-inch tire is an ideal match for all-mountain riders who need the added protection of sealant in places with a persistent threat from thorns or baby heads (or both!), and for those who also want the extra cushion that a bigger-volume tire provides.
The Continental Mountain King UST tire comes in a 2.2- and 2.4-inch width and has a 26-inch diameter. The casing features 3 plies equaling 330 TPI under the tread and sidewalls. The UST bead is foldable and the tire is available in the color Black. Continental estimates that the 2.2-inch weighs around 820 grams, and that the 2.4-inch tips the scales around 880 grams
Price: $38.99 (39% Off!)
Regularly: $64.95
Buy Now