Joined

Dec 10, 2008
Messages

454
Points

18
Location
Date skied:
Sundayday 1/24/16
Location:
Crotched Mountain
Conditions:
Machine made packed powder
Trip report:
There was no way I was going to miss the Pat's game on Sunday. But I also wanted to go skiing at some point this weekend. Crotched it is! Got there in 1:10 from north of Boston, not bad. Left at 7:10 and were in the lodge and booting up by 8:30. In addition to the proximity, I had three 12 yr old boys with me and with my Ride & Ski cards I got us all on the mountain for $32/lift ticket. Not a bad price for a "peak day" Sunday.
Conditions were about what we expected. They have made a decent amount of snow and groomed it out. Corduroy, not many icy parts, no trees or glades in play. What really made the day was the weather/sunshine. Low 30's, not a cloud in the sky, no wind at all. You can see it in the pics. All of the snows making
wales
were groomed out.
In the AM, the kids lapped the terrain park and I just lapped the rest of the mountain. Crotched is a small mountain but I skied each run non-stop to the lift and got a decent amount of vertical in that way. It was mostly ski on the lift or close to it all day. ROTD was probably Satellite to Retro, down Pluto's and then crossing over onto Equinox. If you followed that route not only was it decent snow and pitch, but you could also "fall away from the sun" the whole way. Sun on your back and lighting the trail ahead of you the whole way down.
We left at about 2 PM and were in front of the TV watching the Pats game by about 3:30. I should have stayed and skied some more.
Not a bad parking spot for a Sunday in January: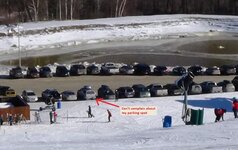 Satellite: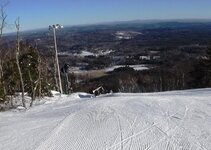 Pluto's: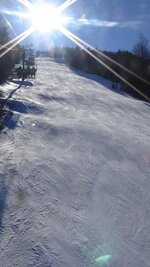 Retro:
This was the biggest lift line all day: