Joined

Jun 3, 2008
Messages

24,840
Points

0
Website
Easton EC70 SL Wheel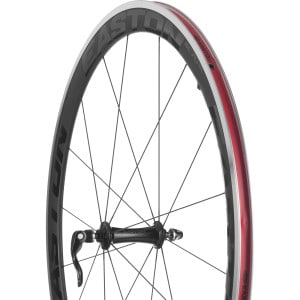 With some wheels, you're forced to take their quality at face value. Carbon? Sure. Sapim spokes? We've seen that, too. But, we all know that your eyes are gravitating towards one variable -- weight. Sure, it's important, but it's not everything. When selecting carbon wheels, we tend to place an emphasis on the quality of the carbon, the precision of the production, and the craftsmanship with which it was built. Basically, we're describing the attributes of the Easton EC70 SL Wheel. It features one of Easton's finest carbon iterations, it's hand built, and it's acoustically tuned. So, the end result is wheel with low weight, high durability, and a confident degree of handling.
For the construction of the rim, Easton incorporated both its EC70 carbon fiber and its EA90 aluminum. The former was used for the main body of the rim itself, and reasons for this reveal themselves in a simple way. EC70 sits near the top of Easton's carbon food chain, with every wheel starting its life as a sheet of pre-impregnated carbon laminate. As for the variant of carbon used, Easton prefers the use of unidirectional carbon. Why uni-directional? Well, compared to a woven carbon fabric, unidirectional carbon is oriented as it sounds, with one direction, or on one axis. And while this makes the production process incredibly more complicated in regards to load path and force direction determination, the benefits are worth it. You see, compared to woven layups, unidirectional fibers tend to better stiffen wheels, while also improving the characteristic of vibration dampening. And incredibly, this is achieved at a much lower overall weight.
As for the shape of the EC70 SL, Easton incorporated a 42mm rim depth with a 20mm external rim width. The depth alone provides an exceptional aerodynamic profile, but this has been furthered by the rim width's clean interface with a standard 23mm tire. Additionally, the wheel's spokes have been recessed into the rim, creating a much cleaner drag profile than that of exposed nipples. However, while rigidity and aerodynamics propel you to higher speeds with less effort, Easton designed these wheels with the full knowledge of a carbon clincher's greatest weakness -- actually stopping at high speeds. Accordingly, it created what it calls an 'H' section where the carbon meets the aluminum brake track. Essentially, this is a section of alloy extrusion that been co-molded to the structure of the carbon rim. This creates a clean, yet strong, transition to the rim, which, in turn, aids in heat dispersion during braking. So, in other words, Easton purposefully sidetracked the potential failures of overheating carbon braking surfaces, while guaranteeing the effective braking power of aluminum. And, impressively, this was achieved at the relatively low weight of around 1660 grams.
In terms of the build, the EC70 SL rims have been mated to Easton's R4 hubs with Sapim stainless steel spokes. The front has received 18 straight-pull spokes in a radial lacing pattern, while the rear wheel features 24 straight-pull spokes in a radial non-drive, two-cross drive side pattern. Now, if you've been examining the photos of the rear R4 hub, you've surely noticed that the drive side hub flange is oversized in comparison to the non-drive side. Here's why -- Easton found that the rotational force of pedaling resulted in the flex of driveside spokes. This slackens rim tension and creates a net loss in energy. So, the solution takes form in strengthening of the drive side flange. Accordingly, energy dissipation has been nearly eliminated.
The Easton EC70 SL Wheel is sold individually as a either a front or a rear. Please note that this wheel is available in a clincher configuration, and that the rear wheel is available with your choice of either a Campagnolo or Shimano/SRAM freehub body.
Price: $449.99 (43% Off!)
Regularly: $800.00
Buy Now