Moderator
Staff member
Moderator
Joined

Oct 29, 2004
Messages

11,188
Points

63
Location
Welcome to fishing 2017!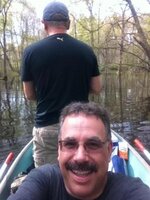 As usual my attempts to fly fish were thwarted by high flow rates and wind. Sometimes I wonder why I even try with the fly rod other than that I want to get better at it. When I wasn't almost getting knocked off my feet by the high water I was busy pulling my lures out of the trees that the wind blew them into. Oh well, I think it's good to keep trying to improve a skill that I am obviously still deficient at. Maybe I'll try telemarking this coming winter.
Anyway, we hit the reservoirs early this year on 4/29. Pic above is from the East Branch of the Croton river upstream from where it enters into Sodom reservoir. Captain Steve did a good job rowing us into position to catch many small trout and even a few small bass. Once we got into the reservoir proper we caught a few good sized bass. My buddy Rich caught the fish of the day, a very nice smallmouth:
Two weeks later, Steve and I fished at Rye Lake and had great early season bass action. Steve tied a crayfish imitation on and caught 5 nice smallmouths all about the same size as this one:
I wanted to use a crawdad imitation too but have learned it is usually better to choose another pattern, so I was using a yellow perch imitation that I have had good largemouth luck with. Worked like a charm and I landed a half dozen nice largemouths and the fish of the day: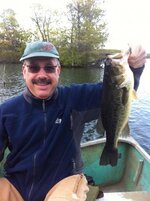 I was amazed to land so many largemouths as the weather was chilly. Great day.
Heading out again this coming Sunday with my buddy Mike.