Moderator
Staff member
Moderator
Joined

Oct 29, 2004
Messages

11,100
Points

63
Location
So since ski season 19-20 got shut down I decided to do some wading and fishing on 3/21. After passing the main parking area which was packed and seeing fly fishermen fishing shoulder to shoulder near the spillway of the East Branch in the bathtub I drove to my more secluded spot at Brady's bend. Nobody there. Parked and wadered up. Had to bushwack downstream to my favorite pool there has been no trimming of pathways yet so it was more like bramble busting and getting to the water required planning.
Once I got in to the pool I had targeted it had of course changed over the winter with many snags and logs moved around. My favorite cast was very difficult to line up with a fallen tree guarding the shoreline area I was aiming at. So of course I lost a spinner snagging it on the tree. There are few spots to wade out to the best casts; most of this pool is very deep.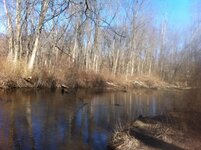 This is downstream from the pool. I casted and casted a variety of spinners and Rapalas and didn't get a bite. Nothing has been stocked yet but I was glad for that because if I had gotten a bite it would probably have been a nice fish. Anyway after 3 hours I worked my way back to my pool. And of course I had to push it lining that cast up. I kept walking out towards the center of the pool on a spit of hard bottom...and my next step was into mud quicksand and I was in up to my knees in a flash. So without hesitation I became a swimmer and was lucky that enough of my torso was above water still and my buoyancy popped my legs out from the mud and I swam to shore.
My neoprene waders are tight so very little water got in and my legs, upper torso and in fact my waders were still dry. But my arms and shoulders got soaked and man that water was COLD. Thusly my fishing day ended.
Always an adventure and I had a great time.