SOLD
I'm selling a new never used Cargo box that I got along with a used Legacy GT that I purchased. The original owner purchased it with the car and never used it , neither did I. It's still wrapped in plastic but I removed the plastic to take the attached photos.
It's a Subaru box P/N E361SAG300 but I think it may be a re-branded Thule Atlantis 1600. There are "Subaru" stickers on the box but they could probably be easily removed.
The new cost was $500+ but I will sell it for $275.
It's located in Essex CT .
I also have other photos and the manual in PDF that I could email anyone whose interested.
email me at cargo_box (at) sbcglobal.net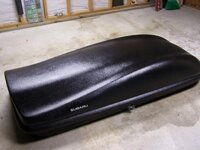 Last edited: