Joined

Oct 18, 2007
Messages

3,669
Points

0
Location
You've admired them in the liftlines and shops, Arbor boards are beautiful works of art as well as amazing rides.
I'm conflicted about this but I think it's time to sell off my Arbor. I have too many other boards that I ride day-to-day and it just doesn't seem right for this gorgeous Koa board to sit at home in the dark. Someone should be riding it. This is A LOT of board and not recommended for beginners 166cm and stiff. It's at it's best in pow, groomers, and at high speeds. If you like to go fast, and look good doing it, this is for you.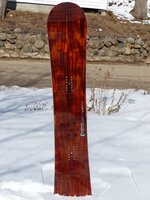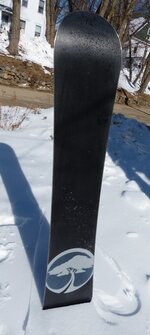 Full disclosure: It has been ridden. It has a few dings. I'd rather show them here than waste your time later if these bother you:
Top sheet took a hit 2 weeks ago at Mittersil:
Small bent edge from 3 seasons ago. I don't notice it when riding and haven't attempted to fix it: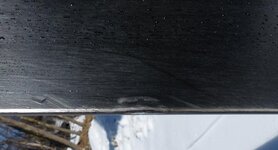 I'd really like to see someone riding this and enjoying it. Otherwise my wife's going to end up hanging it on the wall because it's so pretty and she's sad when it sits in the basement while her Arbor is outside getting lots of love.
$275 takes it away. It's in Lincoln NH right now, but I can transport it back and forth from there to SE MA or anywhere in between. I'm even driving to Philly on 4/5 if any of you in the NJ, NY, CT area are interested.