Joined

Dec 4, 2010
Messages

2,806
Points

48
Date(s) Skied:
3/4/19
Resort or Ski Area:
Greek Peak
Conditions:
Powder/Packed Powder
Trip Report:
I was hoping the Catskills would luck out and get a foot or so out of Sunday night's storm. When that didn't happen, I shoveled about 4" off my driveway and got ready to go to work. After giving it some thought, I figured with what little snow we've had lately, and the fact we had zero work when I left Friday afternoon, 4" constituted a call in sick powder day. I was not disappointed.
Greek got about 3" Saturday night and other than flat light, skied great all weekend. The addition of another 4" Sunday night improved conditions considerably. Groomers skied great in the early morning, and I was looking forward to skiing Odessey, and Olympian as i made my rounds. Both were closed. I couldn't imagine why until I loaded the next chair. I spied workers erecting scaffolding for next weekend's Spartan race at the bottom of Odyssey. Oh well, everything else was prime. I thought it would've been nice if Greek had opened chair 5 since they shut down two of the best trails on the mountain, but then I remembered where I was. They're even charging season pass holders to park next weekend during the race. They will deduct the fee from next year's season pass, but couldn't they just have you show your season's pass, and park for free? Very classy, not.
As I got off the groomers hitting skier's right of Fields, skier's left of Illiad both skied fantastically, with close to a foot from the combined small storms. Soft powdery bumps with no ice to be found. I then skied the connector to Aesop's. Again very sweet. Next was Labyrinth, about as good as it gets. After a break for coffee, I skied Labyrinth to the service road, then across Trojan, then down the woods on the other side. Fresh tracks to be had there, nice. Next I thought I'd checkout the defunct Electra, an overgrown trail that follows high tension wires down the hill. The snow there was great, and the brush and pricker bushes keep you on your toes. The sun even made an appearance, which was nice. It sure beat pretending to work!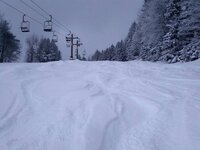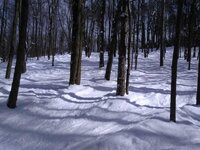 Sent from my Moto E (4) Plus using
AlpineZone mobile app