Joined

Sep 22, 2008
Messages

3,052
Points

0
Rolled in at 9:45 with my car thermometer reading 47 & thinking I'd only need a shell today- many people didn't even wear that much (hoodys, sports jerseys, t-shirts, etc) as this warm front barreled into the Catskills bringing bluebird skies and the same temp as NYC far to the south. Flyer was the only upper mountain lift open in the a.m. & every chair was full/mostly occupied, carrying a very good crowd for a Monday. The east side baked under a strong morning sun, really softening up the base and making many parts quite grabby- I was glad I applied some F4 on my bases beforehand. (There were no blue boy sightings- perhaps today's surface was a wee bit slow for him.) Upper Crossover and Lower K stood alone as the only bump runs- here is Lower K:

The Cliff had the same soft loose granular snow but without the bumps:

Around noon they opened the West & the North sides. Shade had kept conditions in the North much firmer with occasional patches of white ice. The surface was a lot faster over there. Here's Overlook:

Rip's Return, another new North side trail:
​
The new HS 6 pack for the North, which boasts a 3 minute ride:
​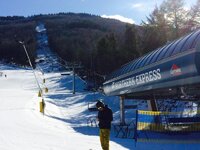 You can get a lot of good skiing/riding in quickly off that lift. I really enjoyed skiing the North- the 3 main trails are wide and have single black diamond pitch to them. Two of those 3 trails are accessed off Way Out. The abundance of conifer trees creates a ''western'' feeling. According to the map there are several glades but they weren't open. Expanding Hunter's acreage considerably, it reminds me of how Gore is sectioned into "pods."
Over the years

as I skied down Belt Parkway
I've wondered what was down there- now I know, and it's good.
Post continued below....
​
​
​
​
Last edited: