Joined

Dec 30, 2003
Messages

3,976
Points

83
Location
Resort or Ski Area

Other / Not Listed
Date

Feb 22, 2021
Snow Conditions

Powder
Packed Powder
Slush or Spring Snow
Cord
Sticky
Chopped or Crud
Started off with Apres Vous at the 8:30 opening bell and enjoyed a mix of groomers and woods between there and Teton chair for an hour or so. A few fresh inches fell overnight and everything was skiing beautiful to start. Lots of fresh tracks to be found in Washakie Glade.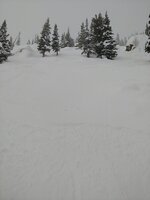 Around 9:30 I headed over to Thunder and was able to get a few good runs in before the line became too much, especially with Sublette on wind hold. First ride up I noticed that Tower 3 had lots of snow blown into it and looked silky smooth, so enjoyed skme knee deep turns up top in there and almost bumpless to the botton. Next door, Mushroom Chutes were steep and very deep.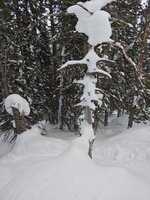 The Thunder line quickly got over 15 minutes so I took a few runs in the chutes and woods off Marmot. Not as deep as the north facing stuff but the sun hadnt gotten to it yet so nice to ski. Took an early lunch at 11 at the top where I noticed that Sublette had come off wind hold.
After dealing with another long Thunder wait, I hit the chutes off Grand and...wow. The sun had totally baked the powder that was still virtually untouched and it would stop you in your tracks. Actually went over the handlebars once and I'm lucky I didn't Tomahawk down.
By the time I got to Sublette it too was also posting an almost 15 minute wait. First run was a
Alta 1 which was just as sweet as Tower 3. North facing slopes stayed sweet all day and this was no different.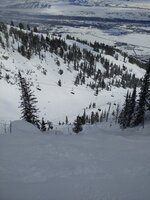 Decided to take one more ride on Sublette and then get the hell away from the lines. Headed around to Expert Chutes which were full of soft snow and also some avy debris (they were blasting away this morning). Took Marmot out of the area and headed into Mr Toads. I've been in this area about 5 times and I find a drastically different way through each time. Today I ended up in a super steep open pitch with a cliff band and great snow, but definitely unexpected since I usually find mellower woods.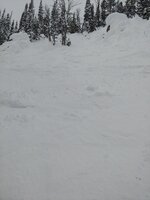 I was getting pretty spent by that time, but it was only 1:30 or so. I decided to head over to Casper and Teton and do some cruising. Temps were pushing 40 degrees and the sun was shining bright on this part of the hill and the groomers were very springy. Dipped into the woods a couple times but like the Grand woods, almost impossible to turn in anything that didn't face north.
Hit the Casper Restaurant for a drink and to relax for a few minutes. Checked the webcams and say Thunder's line had died down. Headed in that direction around 3 and wrapped up the day with two Tower 3 runs and a Paintbrush run. Like I said, the north facing stuff stayed mint all day. The flat light was getting ugly but the steep parts of both runs contain lots of trees so they were more than doable.
The worst part of Jackson Hole is having to get to the bottom after completely spending yourself all day up top. It's 2000 vert to the base from the BOTTOM of Thunder and it felt even longer today as the groomers had frozen back up already. First world problems.
Overall a very nice day 1 of 4 at Jackson and looking at 5-10" overnight into tomorrow morning.