Joined

Mar 1, 2013
Messages

4,704
Points

113
Location
Jay skied pretty good today, all things considered.
got up to jay at about 8:45, ate breakfast and was on the chair with the girlfriend at 9:30. taxi and metro quad runs with girlfriend til 10:30, then met some friends at the jet and headed straight for timbuktu. timbuktu was pretty skied off and i was a little depressed. then i headed for kitz woods and the day was pretty great after that. kitz woods, hells woods, north glade, beaver pond glade, beyond beaver pond glade, everglade, and vertigo all skied pretty fantastic. some sketchy coverage in place and the occasional stump and rock, but mostly totally skiable and enjoyable and lots of soft turns and some leftover pow, especially beyond beaver pond. went into deliverance at 2:30 and that was the only thing i skied today which i would say was shit. but the lower half was great. the chutey upper portion was not fun at all. met back up with the girlfriend at 2:45 and she was down to come up bonny and ski northway, and we did that twice and she was killing it. overall a very solid day considering it rained torrentially a few days ago.
hoping the forecast for this week holds true and we all get to ski some powder on rejuvenated bases next weekend. i'll be back at jay tomorrow i think. freebies at burke that we dont even wanna use.
will get some pics up and edit the post.
i usually shoot square pics. they always post sideways here. i dont understand it and i apologize for the annoyance.
everglade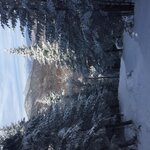 beaver pond boundary
girlfriend is getting pretty confident. last year was her first season.
tracks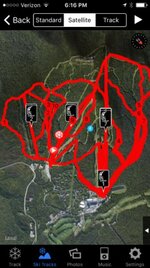 Last edited: