Joined

Jan 2, 2013
Messages

418
Points

16
Location
Website
Date(s) Skied:
April 13 & 14, 2013
Resort or Ski Area:
Jay Peak
Conditions:
Powder in the mornings, Spring-like in the afternoons
Trip Report:
Every year the Ski and Outing Club at my school (University of Maine at Farmington) has a trip to Jay Peak and decided to do it this year. I had never been to Jay Peak before so it was going to be nice checking out a new mountain. We left Friday at 3:30-4 and quickly ran into some rain and ice. We had two large vans for most of the 24 of us, and then a minivan for equipment and a couple of people and for a while it was slow going, especially the stretch between Bethel and Gorham. By the time we reached Gorham, NH, we had already passed 3 car accidents, some of them looking serious. Fortunately after Gorham, the weather improved and we traveled the speed limit all the way until the last hour of the trip when it became snowy again. All in all, it took about 5 hours for us to get there and 6 hours for the other vans since they picked up groceries and had to take longer to stop for dinner.
Saturday morning, I got up early for the 8:30 tram (I mistakenly thought they opened at 8 ). There was probably a good 4-5 inches of powder on the mountain. It was kind of like fine grained ice particles, not normal snow, but whatever it was it made for great skiing. I quickly discovered that if I hurried, I could beat the tram back down the mountain and hop on the same tram which allowed me to clock quite a few runs in the morning. However, by the afternoon there was too much of a line to make that work. By the afternoon the powder turned into epic spring skiing conditions and I skied right until getting on the Green Mountain Flyer at 3:57.
That night, the Bruins were on so I wanted to watch that, but a lot of people wanted to visit the water park after the first period so I tagged along since they wanted me to come too. It was quite the place. While we were there, there were these two guys who are quite the characters and the whole time we were there they were finding all of the hot chicks (lifeguards, random people, etc.) and shouting out 907 or whatever one of our condo numbers were. After the water slides, we went to the hot tubs outside where there was pretty crazy with beer (I do
not
drink alcohol by the way) and these girls who apparently worked for Ski the East or something who were wild and basically sl*ts. I think they kicked everyone out a couple minutes before they actually closed because it was too crazy. As they were making us leave, I could here the guy in our group who was such a character inviting everyone to our condos shouting out 907 907 907! However in the end basically no girls and only a couple of guys from New York and a couple of Canadians crashed the festivities and kind of became the joke. In spite of all this, I managed to get a good night's sleep and woke up Sunday morning in time for the 8:30 tram.
Sunday morning, there was even more fresh snow than Saturday (maybe 6-9" inches in the woods) and it was still very powdery. Jay Peak only reported 7" over the weekend, but I think a lot of it blew off the trails. Instead of doing a hard core day of skiing by myself like Saturday, I skied with other UMF students for the entire day and we still did a lot of really good terrain, just at a slower pace. In the early afternoon, everyone met up and we did a couple tram runs together. The first time we did Tuckerman's down to some other glades and then the 2nd time we did Face Chutes. Most people cut in before going under the tram and a couple people went a little farther including me to get a little bit more of a challenge. When we turned in, there was a nasty chute going straight down the center, or you could go to the skiers left for a bit easier of a run although still very tough. To the skiers right was possible although almost as tough as the chute which I think one person did. However, after thinking about it for sometime and waiting for someone to get out of the way, and with everyone below watching, I dropped into the chute, turning, wiping out, recovering and doing two more turns, and then wiping out again with everyone cheering and me being left only with a jammed thumb. Probably the most epic moment of my ski season. See the photo of it below:
That line on the left has now been conquered!
Here's another view of that line on the first day when there clearly wasn't enough snow on it.
After the last few runs together as a giant group, we took off. I got back at around 6:40, almost 45 minutes earlier than everyone else since they took longer to stop for dinner and apparently took the "scenic route." But take a look at some more photos coming up.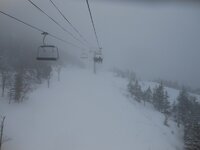 It was snowing most of the weekend day and night, but sometimes it was just a whiteout.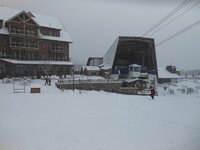 Caught the 8:30 tram both days.
Next post for more photos.
Last edited: