Joined

Jun 3, 2008
Messages

24,840
Points

0
Website
Juliana Joplin Mountain Bike Frame-2014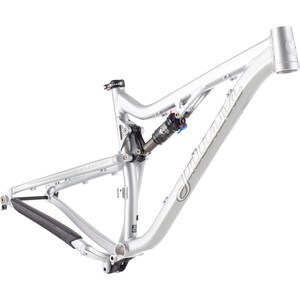 The Juliana Joplin Mountain Bike Frame's heritage can be traced back to Santa Cruz's 1999 machine, the Juliana, which was developed in collaboration with legendary hammerfrau Juli Furtado immediately after her retirement. Today, Juliana Bicycles has developed from a scion sprung at the twilight of one professional career into a self-branded enterprise comprising multiple branches of specialization. With the advent of the Joplin, Juliana's branches of expertise now reach into the short travel aluminum 29er realm.
The Joplin's 29er pedigree means that its wheels boast a larger contact patch to gobble up trail furniture with the same legendary aggression with which its rock and roll namesake attacked vocals during her live performances. The Joplin's aluminum iteration is made of - wait for it - hydroformed aluminum. The alloy is shaped and butted to place more material where it's needed, earning the modifiers lightweight and durable while capitalizing on aluminum's storied stiffness for efficient climbing and confidence on downhills. The rear triangle is shaped asymmetrically to account for unequal drive-side and non-drive forces. This prevents flex and ensures suspension motion is directed to the rear shock and not into flexing the frame, which would cause it to dog trot around switchbacks or across rock gardens.
The Joplin uses Juliana's Virtual Pivot Point (VPP) suspension. VPP is a dual-link suspension model whose links move independently of each other for a suspension that basically moves the rear axle in different ways during different stages of travel. (We write "basically" because this is an over-simplification of how VPP works, but it conveys the general idea well enough.) During the first stages of travel, the top link sees the lion's share of rotation; as you move beyond the sag point into later stages of travel, the lower link sees the most movement. This effectively adjusts the pedaling platform over the course of travel to stay as close as possible to the sweet spot between pedal-stalling, anti-squat feedback and the loss of chain tension that results from too much pro-squat.
The short links used in VPP are made of carbon (upper) and aluminum (lower). The lower link features a grease port for ease of maintenance, and all frame bearings enjoy a lifetime warranty, so they're equal to the abuse of a cyclist as demanding as Furtado herself.
The Joplin is spec'd with FOX's FLOAT CTD adjust Kashima, which marries 125 millimeters of travel to FOX's Climb Trail Descend system so you can adjust travel on the fly for efficient climbing, plush descending, and everything in between.
The 2014 Juliana Joplin Mountain Bike Frame is available in three sizes ranging from Small to Large in the color Silver/grey.
Price: $869.99 (55% Off!)
Regularly: $1950.00
Buy Now