Joined

Nov 8, 2006
Messages

5,513
Points

48
Location
Fast and firm, but you already knew that. I wasn't too motivated to go out but I made it fun by demoing some skis, which I love to do.
I parked at the Governors lodge and started with some warm up runs off the Kanc lift. Temps started at single digits and went up to mid teens. The clouds were whipping by but I only felt mild breezes at the tops of North and South peaks. I did not take the gondola. I'll avoid that every chance I can get.
Pics:
From Governors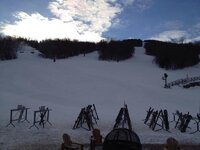 My demo skis, the Salomon 24 Hours Pro. Carvers with a 73 waist.
From the top of Flume. Lower Flume and Lower Walking Boss were just ok but their upper portions were serious hard pack.
The crossover lift headed to South Peak. Note the group snow shoeing. Haven't seen that before. There were two Loon guides with them and they headed into the trees on the left.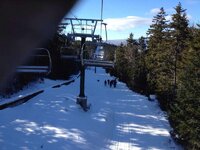 South Peak was in the roughest shape compared to the rest of the mountain. Boom Run was teeming with death cookies, which normally don't bother me but there were hundreds. The demo skis didn't like it. Top of Boom Run.
Next post for more pics.
Last edited: