Joined

Dec 30, 2003
Messages

3,978
Points

83
Location
Resort or Ski Area

Saddleback
Date

Jan 23, 2023
Snow Conditions

Powder
Packed Powder
Chopped or Crud
1/23: Sunday River
Drove up through the meat of todays storm, finally arriving at SR around 12:45. Wasn't intending to ski a full day anyway, but definitely had hoped for more than 3 hours.
Parked at White Cap and started my way across as I figured the snow would be better at the higher elevation of Jordan. First real run was Top Gun which had a lot of soft chowder with the occasional scratch underneath. Popped into a section of Hollywood which wasn't great until it flattened out. Still nice to be back in the woods after the month long thaw.
Made my way up the Chondola and down Quantum Leap. It was fun, but definitely one of the bonier trails on the hill. Took Aurora over to Flying Monkey, which had some decent spots but also needs a good weed whacking.
Took a few runs off the new Jordan 8, which is incredibly fast and was deserted today. Took a run down Excalibur into the woods that I can't think of the name of, which were in decent shape. Definitely the best woods I found during my few hours on the mountain.
Also hit Ruby Palace, Oz's liftline which had a shit entry, but was a lot of fun otherwise. I love the quality and quantity of SR's liftline trails, but unfortunately only a couple are open right now.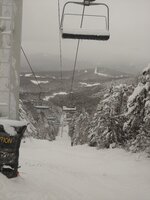 Next I hit Supernova back into the Aurora liftline (which was awkwardly half roped near the bottom). Found some good untracked areas in there, a bit frightening due to the low tide underneath but fun nonetheless.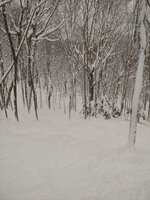 Grabbed the top section of Vortex which was quite slick before heading back toward White Cap. Took Spruce up hoping to hit Gnarnia as the report showed it open, but it was roped and looked bony anyway so just took Risky Business which had some fun chowdery areas down the right side. Took Barker to T2, the across to Lower Chutzpah which was a mistake with the terrible lower elevation coverage.
It was quittin' time after that and finished my drive to Rangeley. Excited for two days at Saddleback and a side excursion to Sugarloaf!