Joined

Jun 3, 2008
Messages

24,840
Points

0
Website
Niner R.I.P. 9 - 2012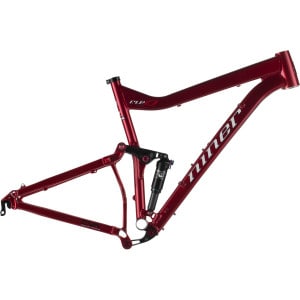 Sporting longer travel then the cross-country focused Jet 9, the
Niner R.I.P. 9
treats you with more composure when the trail gets unruly. By using Niner's CVA twenty-niner specific suspension design and extensive hydrofoming, forging, and CNC machining, the R.I.P. 9 keeps weight on the lighter side while offering an extremely efficient and plush ride. If you've only got room for one bike, the R.I.P. 9 will fill the void nicely with competent handling for every variety of trail .
When Niner designed their Constantly Varying Arc (CVA) suspension system to complement 29ers, they didn't adapt an existing 26 inch-wheeled platform, which meant they were able to tweak the links and pivots to enhance the ride of big wheels. They placed extra stiff forged aluminum links in positions that isolated pedaling forces while remaining fully active under all conditions. Because the lower link sits below the bottom bracket and the CVA's instant center is located in a virtual position ahead of the drivetrain, chain tension at the rear axle pulls the two linkages in opposite directions-effectively isolating the drivetrain from the rear triangle. When you press on the pedals, nothing's lost to compressing the suspension and you won't suffer kickback from chainstay growth when pedaling through rock gardens.
Another key feature of the CVA is its low ratio of shock stroke to suspension movement. This decreases the amount of preload needed, which translates into smooth, effective damping and less drag on the seals. Niner designed their Constantly Varying Arc (CVA) suspension system to complement 29ers, and didn't simply adapt an existing 26 inch-wheeled platform The R.I.P. 9 gets 4.5 inches of suspension travel out of the CVA design, and with its efficient power transfer, highly active nature, and plush travel, the R.I.P. 9 will easily crest difficult ascents, negotiate tight switchbacks, and provide eager handling. Niner specs the R.I.P. with a full complement of sealed cartridge bearings for smooth operation and minimal maintenance.
The perfect mix of computer-assisted finite element analysis and real world testing has resulted in extensive hydroforming to perfect the R.I.P. 9's tube shapes. This shaping, when combined with widespread forging and CNC machining throughout crucial frame and suspension pieces, ensures the optimum balance of weight to strength. A tapered headtube provides front end stiffness and steering precision, and a 120mm fork would complement the R.I.P. 9's CVA rear suspension nicely. Niner drops a custom-valved Fox RP23 into the R.I.P. 9 to handle suspension motion and to provide outstanding bump compliance and damping.
The Niner R.I.P. 9 uses a 30.9mm seat post, and requires a 34.9mm clamp on a high-mount bottom swing, bottom pull front derailleur. The R.I.P. 9 now features replaceable drop outs, so while it comes with traditional 135mm rear spacing, you can swap the dropouts out for the stiffer 142 x 12mm thru axle. The rear triangle offers clearance for 2.5in tires and a 180mm rotor. It comes in four sizes: Small, medium, large, and extra large. Niner offers the R.I.P. 9 in three finishes: Raw, Niner Red , and Licorice. Actual weight for a medium frame and rear shock only is 3390g (7.5lbs).
Price: $1099.99 (40% Off!)
Regularly: $1849.00
Buy Now