Joined

Jun 3, 2008
Messages

24,840
Points

0
Website
Niner RIP 9 Mountain Bike Frame - 2015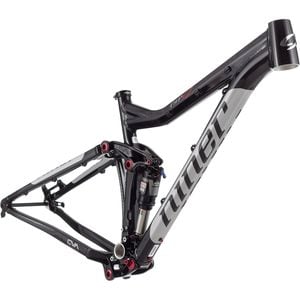 In order to celebrate spring and 29ers and 29ers with full, springy suspension, we've written a haiku about Niner's high-travel RIP 9 Mountain Bike Frame:
Five-inch suspension
29er with travel
Big hit compliance
OK, our poetics don't exactly inspire comparisons with Matsuo Bash. But that's OK, because the bike speaks for itself. Anyone who isn't inspired to sing paeans to a bike with all the trail aggression of a 29er and a poetic dose of all-mountain suspension is probably looking at the wrong website.
The alloy version of Niner's limitless RIP 9 series has the same proven geometry, removable ISCG05 chain-guide mount, direct-mount front derailleur interface, 142mm rear spacing, and titanium frame guards as the RDO version, so you're not missing out on any of the little tricks that make the RIP series such a beloved, effective trail ripper. What it
is
missing is a plastic frame, as Niner brings its new airform aluminum manufacturing process to bear.
Airforming uses compressed air instead of water to shape alloy into the RIP 9's tubes, allowing for increased control of material thickness and tube shapes. This makes for a process that lets Niner use less material than with hydroforming, so the airformed RIP is able to com within a claimed 295 grams of carbon RIP RDO. Go ahead and calculate that in pennies-per-gram terms and you'll agree that it's no sacrifice.
The head tube and seat tube angles are a relatively steep 69.5 and 72.5 degrees, respectively. Combined with a tapered head tube, these angles mean the spry RIP 9 can climb and navigate technical terrain better than a slacker 29er while still reducing fork deflection for tracking that sticks to its line. Of course, it is still a 29er with five glorious inches of Constantly Varying Arc travel (CVA), so you can always just ride roughshod over that terrain, instead.
Niner's CVA suspension system started with a clean sheet in order to tweak the links and pivots for 29 answers to whatever questions an unruly, all-mountain trail can pose. The lower link sits below the bottom bracket, which places the systems instant center in a virtual position located ahead of the drivetrain, causing chain tension at the rear axle to pull the two linkages in opposite directions to effectively isolate the drivetrain from the rear triangle. When you press on the pedals, nothings lost to compressing the suspension, and you wont suffer kickback from chainstay growth while enjoying the 29er's ability to pedal through rock gardens.
Another key feature of CVA is its low ratio of shock stroke to suspension movement. This decreases the amount of preload needed, which translates into smooth, effective damping and less drag on the seals of the specially tuned RockShox Monarch RT HV Fast Black shock. The CVA's stiff, enlarged pivot hardware is further complemented by a set of sealed Enduro Max bearings for minimal maintenance and incredibly high tolerances.
Price: $1099.99 (40% Off!)
Regularly: $1849.00
Buy Now