Joined

Sep 1, 2012
Messages

1,537
Points

83
Location
One Day Ski Wonders
Recently I was thinking over the list of approximately 85 ski areas I have visited and realized there were about 20 that I only skied one time. Even if it's just for a day, sometimes you make an instant connection with a mountain and for whatever reason it's memorably good; conditions, terrain, company, or maybe you just woke up on the right side of the bed - I think of these as my one day ski wonders. Here's a short list of some of my better one-and-done ski experiences:
Black Mtn, NH: pretty darn interesting. Lots of short, but steep little drop-offs all over the place. Crazy thick glades of the ski it if you can variety. Very atmospheric throw-back vibe to the design of the trails, lifts, and base area.
Mt Abram, ME: a lot of similarities to Black Mtn above. Dirt cheap fun. Very quiet weekday skiing. Would like to get back in better conditions to get the most out of the steeper runs and glades.
Brighton, UT: all the terrain is served by a handful of high speed chairs allowing you to get a nice taste of the area in just one day. A lot of hard blue/easy black runs falling in my ability sweet spot. Very scenic area and the Millicent terrain can quickly get highly technical in a double black diamond way. Same great snow as more renowned Alta/Bird.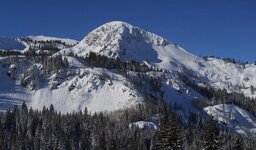 Alta, UT: just one day here is a travesty. There are super accomplished people that ski it for a lifetime. Nonetheless, even a superficial sample of this mtn's beauties will be relished by an adventurous tourist. It's a gorgeous place and I was helped by having a local guide for a few hours in the morning. The terrain ranges from inviting to intimidating and everything in between. High Rustler is epic, Catherine's Area is sublime:
Sierra at Tahoe, CA: I caught a foot of fresh powder here during my one and only visit. Two friendly locals befriended my son and I on a weekday and spent about three hours showing us a great time on all kinds of off-the-map terrain. Good snow, good terrain, good company made for one heck of a lasting impression! Only thing, if I ever went back I'm not sure I could top this day
Sugar Bowl, CA: For some reason this one sticks out as my favorite one day wonder. It was a beautiful sunny day with good conditions and a considerable, but tolerable crowd. Possibly the best 1500' vertical mtn I have ever skied. Terrain ranges from fun and easy to unforgivingly extreme, but straightforward for quickly getting your bearings. Good lifts/lodge/parks infrastructure, fascinating and long ski history with a strong racing and Walt Disney connection. This mtn is nominally the closest good Tahoe ski area to the SF Bay area. If you're ever out there on a business trip or something and only have one day to ski - check out Sugar Bowl. It would be worth the effort.
WHAT ABOUT YOU? What impressions can you get of a ski area in a day? What memorable take-aways do you have from a single visit to a ski area, recently or perhaps many years ago?
Last edited: