Joined

Nov 7, 2012
Messages

8,789
Points

36
Location
Conditions:
Frozen PP (early), PP (by noon), soft PP (afternoon)
Trip Report:
We arrived and it was a bluebird day! The temp around 36 at the base which meant that the trails were going to be in great shape! We menat the folks from Ride and Ski for morning runs! We were skiing on comps that we got with our Ride and Ski card. Since Ragged used to be our base for years when we live nearby, we were excited about the day. The pond skim was happening, they had the grills fired up and Sport Thoma had a 50% off sale! What more could we ask for? How about great conditions!
Since the conditions were frozen PP, the runs were fast so we took relatively easy trails like Blueberry Patch and Lower Ridge, then twice down Upper Crewcut, Newfound Ridge Main Street then to Village Green. The runs were fast and we hauled #$%! Next we decided to go over to the Spear Mountain Triple and since things were cruising nicely decided on Cardigan and Turnpike! Once again non stop runs that flew! Since it was a bluebird day we went up that chair again! It is slow and makes for a great sun soaking ride! Once at the top, we made a few runs down Flying Yankee. The conditions still conducive to fast runs! It was going to be a great day.
The trails were softening up nicely and we thought after three runs on that chair it was time to get back on the 6 pack HSQ! That chair moves people! Line move quickly and many runs can be had. On our next run we went through the park (Wild Side) and the jumps were in nice shape but due to the frozen PP the landings seem hard sometimes. Since the trails were getting soft also dipped into Ragea Glades but that was short lived! The powder there was still hard (frozen) and sking felt out of control! Later that day, that trail turned out to be real nice. The groomers were
We ate outside since they were grilling and the atmosphere awesome! They have PBR pounders for $3 - perfect! We took this time to also shop Sport Thoma and made a few purchases since the deals were great! End of season sales - you have to love them!
After recharging we decided to hit both cides of the mountain making runs down Upper Exibition lapping 6 Pack for three or four runs except the last run where we headed down Birches to get back to Spear Triple. Birches was really nice with mogul patches! The bumps wer soft and well spaced! My wife was not too happy about that but she killed it cautiously! Once over at the Spear Mountain side we headed down Showboat for a couple of runs since it was getting soft and the steeler trails ski better under soft PP! We headed down Flying Yanee for one more run! This is a very fun cruiser with nice turns that mike it fun! The softness was a little wierd this time compared to earlier (frozen) due to the braking feeling that would happen on the sun soaked snow! While it ran well the spped was not the same as earlier. We decided to make a couple more runs from 6 Pack Express and headed back over to the Raggea Glades and this time they were fun and we fely in more control. Our last run was down Exibition since that was skied alot the soft snow was still very skiable. With out legs getting tired, we opted to join the party at the base and a great time it was.
BTW the pond skim was a little lame since the pond was soo short - most made it across!
Overall it was a great day and we had an absolute blast! We like Ragged and normally enjoy Tallulahs' Tavern but the patio was too inviting on this day! Thanks Ride and Ski for another great day!
Exibition from 6 Pack Express
Showboat where there is not snow making
Showboat where there is snowmaking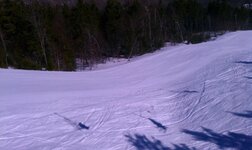 Bottom of Showboat where Birches merges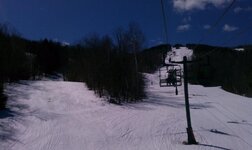 Last edited: