Joined

Dec 4, 2010
Messages

2,767
Points

38
Scotty and JimG have been hiking together this Summer. I joined them for a hike at Sam's Point. Scotty told me Jim was dropping his Son off at Cornell for the upcoming semester. I wondered if he would be able to fit in a hike somewhere in the Ithaca area, there are lots of options. He couldn't, but Scotty was willing to drive to Binghamton, so I drove to Ithaca from there.
I usually drive to Treman via rt 17, but decided to take 81 so I could show Scotty my home mountain, Greek Peak. Traffic was pretty heavy when we did hit Ithaca, students returning to Cornell, and Ithaca College a contributing factor no doubt. The trails were busier than usual too.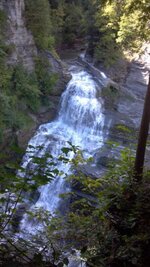 Construction along the gorge trail, a little disappointed the upper part was closed, the most scenic part, but the high water levels from recent rain made up for it.
Sent from my DROID X2 using Tapatalk 2