Joined

Dec 30, 2003
Messages

4,026
Points

113
Location
Resort or Ski Area

Saddleback
Date

Mar 23, 2021
Snow Conditions

Slush or Spring Snow
Sticky
After a gorgeous drive over Rt 16 from the Loaf, arrived at Saddleback and clicked in around 1. This place has always a bucket list resort and once they announced reopening, I knew I would hit it up on a Loaf trip.
Started off right back under the lift on a half groomed Royal Coachman and my goodness...actual spring corn! Fun first run..the runout at the bottom got sticky in the sun but it was nice to find the soft snow I've been missing the past couple days.
Next run I decided to head to the Kennebago and started down Green Weaver, but was distracted by some nice looking bumps on Peachy's Peril and...my goodness, real spring bumps! Nice bump lines on most of the trail and much softer than anything I skied the past two days. I understand the aspect is a little more northwesterly here, but damn, it was just night and day compared to Sugarloaf.
Took many runs off the legendary Kennebago. First was Wardens Worry which had a lot of thin spots but soft spring snow the whole way. Only kind of shitty thing is that there are a lot of small stumps sticking out of the snow on most of Saddleback's natural trails and they can really grab a ski if you aren't careful.
Curiousity got the best of me and I finally had to trek out to Muleskinner. It's a long, uneven traverse to get out there and very hot in the sun today. The trail is fun, but not sure its really worth the long trek which I feel like is better suited for Casablanca. The trail reminded me of Castlerock Run, really fun but not super special like hoofing it to Paradise at MRG or something. Mostly covered well and soft other than a crappy part near the bottom.
Got some wind in my face with a cruise down Tight Line. Nice steep wide open trail with great snow.
Hit up Family Secret, the liftline trail which had to be entered a bit lower down. Nice and soft most of the way although the left side was getting crunchy in the shade. I can't imagine lapping a T-Bar on this line, must've been some real tired legs in the old days.
Decided to head back to mid mountain and took America to Hudson Highway. Kind of a mistake today, very flat trail in spots and sticky snow. Gorgeous views though.
Had time for a few more runs off Rangeley. Crusied Grey Ghost which was kind of the main trail and somewhat crowded if you caught a large group. Parmachenee Belle was next and was very thin but had a few fun bump lines. Hit the park at the bottom which had a few fun features.
Next was Professor which was great after the thin spot at the top. More fun spring bumps and then smoother spring snow at the bottom.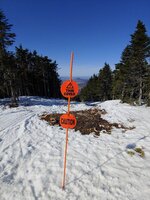 Finished up with Ghost to Golden Smelt. Looks short on the map but feels much longer when you ski it! Yet more spring bumps. All of the natural trails are thin but a blast, they very much have a Sugarbush/MRG feeling to them. Not super steep or anything, just narrow and good fun.
Wrapped up the day with a beer on the deck, which against all odds was selling beer on a 60 degree sunny day. I think with identical conditions, Sugarloaf has better expert terrain but oh my god is Saddleback blowing them away conditions wise this week. Glad they got this place reopened and with them on the Indy Pass, I plan on coming back every year. Went in with high expectations and it exceeded what I expected.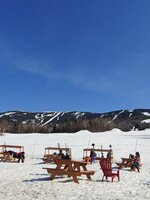 One more day tomorrow of GOOD spring skiing and then this trip is done. Hopefully have one or two more eastern days left before SLC in mid April. By the time that is over, might be Superstar time.