Joined

Jun 3, 2008
Messages

24,840
Points

0
Website
Sidi Wire Vent Air LTD Euro Edition Men's Shoes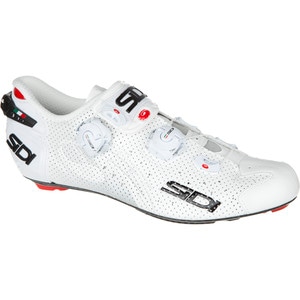 Building off its top-end Wire Vent platform, Sidi's new Wire Vent Air was designed to not only be lighter in weight, but also to deliver more cooling airflow through its perforated upper design. The rest of the shoe was made with the same proven features as the original Wire, save for the exclusive graphics previously unavailable stateside. Now you get all the best in terms of Sidi tech, in addition to the new LTD Euro Edition aesthetics.
The Wire is based around a single system " the new Tecno 3 buckle, yet another great innovation from Sidi. Most notably, adjustments of each of the shoe's instep and forefoot buckles are significantly more intuitive and easier to do while in-the-saddle. Loosening each buckle is a simple affair " you can pinch both buttons on either side of the buckle to unwind the line closure, or you can alternatively toggle each button for extremely precise incremental adjustment. Tightening the shoe should also be familiar: just open the buckle's switch and wind the buckle. Sidi uses a supple, but low-friction, line material to keep the buckle action smooth. Not only does the Tecno 3 make the shoe's overall aesthetic even cleaner, but it also allows for an even greater degree of micro adjustability and fit consistency across the entire shoe. This ensures that you get the perfect fit every single time you buckle up for a ride. And for those who prefer as snug a fit as possible, the shoe's tongue and instep strap have both been padded generously to allow for supreme comfort with tight buckles.
Returning from the previous Ergo 3 model is the superlative vented carbon fiber sole. It shares the same construction method that Sidi developed with its Carbon Lite sole, yet they've taken out 38 grams in the process. Even with the weight savings, you'll get the same kind of stiffness and razor sharp power transfer you've grown to expect from Sidi. Like Garneau's Ergo Air system, the vent inlet is at the toe. However, Sidi's system can be opened or closed depending on the temperature and your preferences. This, you can do on the bike if necessary. The airflow moves underneath and through the insole to cool your feet in sweltering summer temperatures.
Also returning from previous top-shelf offerings is Sidi's improved Heel Security System (or HSS) to keep your foot positively planted in the shoe. By means of a small allen key, it's an adjustable, rigid composite band that closes the shoe more securely over your heel to anchor it in place around your Achilles. So, no matter how much power you're pouring into the pedals, your heel will stay in place inside the shoe. It's a detail that allows you to cinch down the straps of your shoes less tightly " giving you more comfort along with more security.
With a degree of engineered flex in the Vent Carbon Sole and a secure and slip-free heel, you won't have to worry about hot spots. And you don't have to worry about heat in the rest of your feet, either, with the Wire's generous application of perforated Lorica microfiber " providing you with comfort, fit, added ventilation, and durability.
The Sidi Wire Vent Air LTD Euro Edition Men's Shoes are available in the color Vernice White. They come in both whole and half sizes from 41.0 to 48.0. And true to Sidi form, all of the buckles, straps, and heel retention devices are fully replaceable.
Price: $274.99 (44% Off!)
Regularly: $499.95
Buy Now