Joined

Dec 7, 2017
Messages

5
Points

3
A little late pulling the trigger on this but in these lean post-season days thought I'd spread some stoke from skinning Wildcat last Saturday. About 15-20 cars in the lot when I showed up and a solid foot of new and very heavy snow on the mountain.
Typical Pinkham Notch weather throughout the day with dark clouds, flurries and wind mixing with some breaks of intense sun allowing a few peeks across to the Rockpile and the ravines. Wide, packed-out skin track started right from the bottom (visible on the right edge of the stoopid selfie) and wound up looker's left on Polecat.
I've skinned BC all over the Adirondacks and the Whites and the Berkshires over the last 20 years or so but it still never ceases to amaze me how skinning a resort gives you a completely different perspective on it than when the lifts are spinning. Polecat is a 2.5 mile long green cruiser, but it sure looks and feels black when you're climbing it.
Went up to about a half-mile below the summit and turned around – pretty much survival skiing on the down because of the heaviness but still fun as hell to be getting some alpine gravy this late in a lean year in the Whites. Also a little anti-climactic after skiing the Cat on Easter when it was lift-served bluebird and crazy good corn with hardly anyone on it.
I'd say this coming weekend should still be good to go up there if you're looking for some 11th-hour earned turns.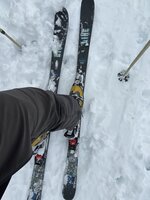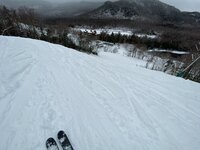 Last edited: