Hoping to be back up next weekend but just in case made some laps down the nice last pitch of the "Snow Bowl Alley" trail on Saturday. The configuration of the base station and chair storage rail on the new HSQ will radically alter the look and flow of this area for sure!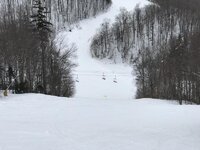 If your interested the plans for the new lift can be viewed here.....
https://anrweb.vt.gov/ANR/vtANR/Act250SearchResults.aspx?Num=2W0519-29
Ohh!! BTW, Did hear another very interesting rumor today about the Old Snow Bowl Quad........