Joined

Jan 12, 2012
Messages

4,300
Points

0
Location
Sugarbush did a great job in two aspects.
1. Snowmaking trails skied beautifully. Not a scratch or ice patch to be found.
2. Natural trails were open. Some of them some other mountains would have opened, others pretty much only Sugarbush would have open. Thin cover, some raspberry bushes, a little dirt here and there, you had to keep an eye out for rocks and waterbars, but mostly lower on the mountain. Higher up the natural trails were really nice. Nice bumps on a lot of the trails. Stein's was kind of thin and the size of the moguls reflected that. Paradise had some nice bumps and plenty of snow.
* My opinion of "plenty of snow" is generally less snow than some people's.
Reason we chose Sugarbush Lincoln Peak was 1) most open terrain, 2) they seemed to have the most snow lately, 3) their woods skiing policy is basically go for it. As opposed to Killington which ropes off woods.
Woke up at 4:30am, left the house at 5:15am and was on the lift just barely after 8:00am. Crowds never got too bad the whole day. Maybe the least crowded I've been to Lincoln Peak in years. I figured the word was out that they had the goods, but I guess after New Years and with rain coming the next day (Sunday) it was enough to keep the lift lines short. Plus I would imagine a lot of casual skiers have basically given up on this season or are waiting for a 2 foot storm in their back yard.
The snow in the woods was adequate cover but there were more obstacles present than there would be with more cover. Snow snakes, rocks, stumps, brush. And the snow was a little heavy, sucking up the moisture in the air. That said they were also basically untracked (or rarely-tracked) which made for some fun long arcing turns in Stein's Woods, Gangster's Grotto, and others.
We wanted to head over to Mt Ellen but the 2-way lift was closed (and we checked at lunch time). Don't see the reason for this, and we really wanted to head over and do Exterminator Woods, Bravo Woods and a few of the other nice ones over there (and Mt Ellen we suspected had slightly more snow and their woods, for the most part, are a bit higher elevation).
Anyway good day. Really wore me out. Here's some photos:
Long Trail past Paradise (closed)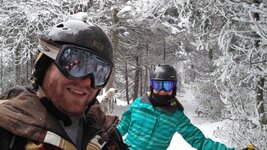 On of the chutes between Paradise and Church (closed)
Ganster's Grotto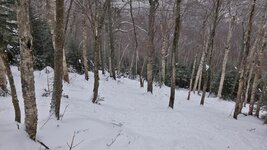 Stein's Woods