Joined

Jan 2, 2013
Messages

419
Points

16
Location
Website
Date(s) Skied:
March 30, 2013
Resort or Ski Area:
Sunday River
Conditions:
Spring
Trip Report:
On the first day of my spring vacation (yes, University of Maine at Farmington has weird vacations), I took advantage of a bluebird 50 degree day to get some skiing done. I am also working on a project in my Geospatial Information class which involves finding the maximum slopes of numerous double black diamond trails, finding the height of some cliffs at the mountain, and recording the location of these places using a GPS device. With the weather being so favorable, I also shot a whole bunch of photos of the ski lifts.
In the morning, some of the more shaded trails still needed to soften up, but other than that everything was great. I started off mostly in the White Heat area taking care of White Heat, Shock Wave, and Chutzpah. By the way, there was some controversy over the difficulty of Chutzpah and whether or not there was a cliff. Perhaps I over hyped it a bit, but here is a photo of it, which is mandatory if you go a certain way. In the past when I have done it there has been more snow, but it was sheer ice making it very difficult.
After a while, I decided to have lunch (it took me a while to do all the measurements and stuff over at White Cap). I passed by the Dumont Cup which was quite a scene at Barker.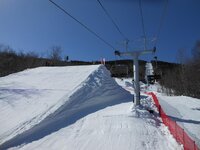 After lunch and noting that the Chondola and South Ridge Express were basically walk on, I headed over to Jordan Bowl. As expected, the runs were great, nice and soft by that point.
Unfortunately I got there late (9:20) and had to leave early (3), but it was great while it lasted and it was probably my best non-powder day of the season. Somewhat surprisingly there was only half the usual weekend crowd. There might have been a 5-7 minute wait for groups at Barker for a couple of hours, but other than that I did not see any real lines (there could have been some at South Ridge earlier in the day, I don't know).
Walk-on at Jordan Bowl around 1:30 pm:
One of several new secret trails I discovered today:
Probably the largest cliff at Sunday River that is theoretically possible to jump. I didn't even try to measure it, although I guess that it is 20-30 feet tall.
Can't wait for some more Spring skiing!