Joined

Mar 14, 2013
Messages

319
Points

0
Location
Well no cougars in the woods, they were all in the bar. I hit up Catamount on the mother f-in coldest day of the year. Located on the NY/Mass. Line. And it was so f-in sweet.
EDIT: catamount, the animal is a bad a$$ mountain lion / cougar.
http://www.fws.gov/northeast/ecougar/
I took @billski's advice and tried some fixed grip action, 1000' of vert and I was really impressed. I called in at work and said the powder that just fell got me sick. So weekday $30 action was on. Grabbed a buddy who also played hookey and we left at 0600 EST. We were almost first chair at 0900 for this, It was horrible driving conditions: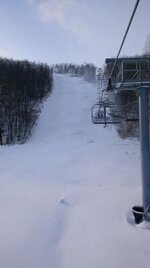 I was so impressed with the lift speed, a solid 3 miles an hour at -10 degrees below zero no windchill. I guess I am spoiled with bubbles or gangalas, but the f-in skiing rocked. I forgot how to get off the lift death trap at the top, I am so used to HSQ's slowing and pulling into the station.
Check it out:
More stoke:
The snow was straight powder and man made heaven, no scratchy ice. I am a full believer of this old world ski area thing. Did I say nobody was on the slopes!!!
Cold Smoke was a flying, probably due to the temps, so sweet.
Last edited: