Joined

Dec 30, 2003
Messages

3,936
Points

83
Location
Resort or Ski Area

Wachusett
Date

Mar 9, 2022
Snow Conditions

Powder
Chopped or Crud
Dust on Crust
Ice
Arrived a little before 5:30 with about 2-3" already down and the snow stayed steady just about through when I left at 8:30. First time night skiing in a couple years and the nostalgia came rolling back. The school groups are mostly done so no more than a 10 chair wait all night, but still a decent crowd.
The ugliness was apparent underneath the new snow although things continually improved through the night. The powder built up a bit on the edges of 10th and Smith which was a treat to blast through. Conifer ended up becoming choppy as hell. Other than a first run on Frannies, spent the night up top so not much to report from the rest of the hill.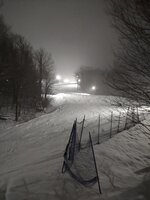 Popped into the Bullock Lodge for a break...hadnt been there in probably 5 years. One of those must see things if you ever end up at Wawa for some reason.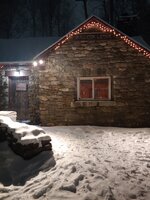 Good to finally get back out. Fingers crossed for the big one on Sat/Sun.