Joined

Nov 7, 2012
Messages

8,792
Points

36
Location
Sorry about the delay of this report, computer issues to blame! As we all know, the conditions at all the resorts have changed considerably - so thin covers of PP on Frozen PP are more than likely all PP at this point! With that in mind here we go!
Wild day at Wildcat! The winds were wild, conditions were wild (fast) and the party was wild too! We started our trip from Nordic Village where we stayed overnight. We had a 2 day pass for Attitash/Wildcat so the previous day was spent at Attitash and though we had a good time – it did not appeal to us as Wildcat does. While at Nordic Village on Saturday evening, the weather reports from out phones were not good calling for temps of 4 degrees F and winds of 30-45 MPH which to me sounded like there would be lift stoppage. Wildcat is susceptible to winds due to their location. Our backup plan was to head south to Ragged (using comp tickets). However, the next morning was not as cold as predicted and the winds did not seem as strong either (so we thought).
We decided to ski Wildcat and while heading out of the lodge, we ran into a few friends that told us wind at the summit was crazy and it was cold (2 degrees F). As a result we, started by skiing lower lifts to get the blood flowing beginning with the Snowcat Triple and heading down Snowcat primarily to save hiking to Bobcat Triple. This is an easy short run that actually skied fast due to the conditions – enough PP to get and edge and the surface below that was hard so the skis ran! This was basically the way it was all over the whole resort.
Next we took another quick run of the Bobcat Triple and headed on down Alley Cat. This was our first real exposure to the winds that day. While heading towards Alley Cat it was comfortable due to the trees but then we rounded the corner opening up to the winds and they practically knocked us off our feet. Definitely a goggle day! In any case, we headed to the base over to the Wildcat Express for a ride to the summit. This is a super fast chair which is nice since you never really cool down unlike the slower chairs at other resorts. Once to the summit, we opted for a longer run down the Polecat trails. This is a really fun run and with fast conditions – well it made them that much more exciting! We ended up lapping the Wildcat Express for a couple more runs before heading in to eat. The next two runs were on Lynx trails (also very fun) and Wildcat trails over to Cheetah. Cheetah is a nice wide trail that allows you to set an edge and rip up some real estate. Nice thing is – you can fly and not worry about pizza pie skiers or quick switch turners since there is so much room!
We did not bring our own food so we ate a few apps and drank some Harpoon and a Bloody Mary at the Wildcat Pub! The Harpoon tasted like it does everywhere and Bloody Mary was not all that great. The food was ok but stick to the entrées! Well, there was still some skiing to be had so we headed back out and continued to lap Wildcat Express.
We made another four runs from the summit using all the other trails that we had not hit yet skied! The bump trails were hit and miss! Some trails had enough snow to make turns off the hard bumps where as some of the lower trails were ice and did not ski well at all. All groomers were near perfect if you like hard conditions. We ended at four runs for a reason – the winds were picking up and blowing like crazy up top. While heading down our last run on Wildcat we were cruising along and got to Bobcat (perpendicular to Wildcat) and the wind blew right up it and cross the trail we were on. It became a whiteout with little ice shards feeling like razor blades hitting your face. We came to a hard stop since we could not see where we were going and hoped that no one else was behind us. After that we headed to skier's far left and had an easy laid back run!
Date Skied:
03/17/2013
Resort:
Wildcat
Conditions:
Thin (1-2 inches) PP on frozen PP
Trip report:
Once back at the base we decided to do a couple runs off the Bobcat Triple with a run down Alley Cat once again and finally a run down Lower Catapult which is where their park is. The park was nothing exciting, a few jumps, a rail and a box rail! Our kids were bored with it within and hour! Later they made a couple of runs from the summit but thought it was too windy! Kids these days!
We finished off the day back at the Wildcat Pub for some St. Parties day festivities. The party was hosted by Ride and Ski, and Harpoon! The artist was Pat Foley who was entertaining and funny! Everyone seemed to be in a party mode since the party was in full swing with a full house at 2:30 and lifts still spinning.
We love Wildcat! Overall it was a great day! Too cold – not at all – the gear makes your day. If it was too cold for some then they did not prepare for the weather! Better to have too many layers then not enough! Thank you Ride and Ski for the discounted weekend of skiing and thank you Harpoon for the IPA!
BTW I did not mention any glades since they were not that skiable!
Green Green Everywhere!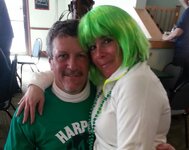 Wildcat from the deck!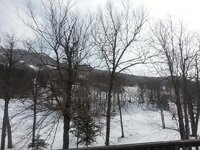 Way to close out the day!
Last edited: