Joined

Jan 2, 2006
Messages

4,066
Points

0
Location
Date(s) Skied: 2/6/2015

Resort or Ski Area: YongPyong Ski Resort, PyeongChang, Korea

Conditions: 0 to 2 degrees Celsius (about 32 to 36 F), bluebird, frozen granular/packed powder (honestly, the snow conditions reminded me of New England), soft snow on the edges of trails, meticulously groomed/ no bumps

Trip Report:



At last! The snowmonster is back on snow! It feels great to post a TR again on AlpineZone. I've missed this.





My first ski turns since June 13, 2013 (and first in the Far East) were made on February 6, 2015 (coincidentally, almost ten years to the day since I first took my first ski lesson). It was quite a long time to be off snow and I was worried whether I still had the skills. But, you know what? Once you start sliding, it all just clicks into place. I missed this.



I had a business trip to Seoul, Korea and arranged a day-trip to YongPyong Ski Resort in PyeongChang, which is about 3 hours away from Seoul. People thought I was nuts to drive 3 hours to ski for a day but I explained that this was nothing for us New England skiers. So, I hopped on a rented van at 730 am and was at the mountain before 10 am (fast drive).

First thing I had to get done was get some gear. I had shipped most of my soft goods to Manila but my skis are still in Boston. So I rented the longest skis that they could find -- 170 cm length Heads. Asian people are not know for height so this was already the big boy ski. The funny thing was they just adjusted the binding to accommodate my boot. No questions about height, weight or skier level to adjust the DIN settings. This was a bad sign for me so I grabbed a screwdriver and set my own DINs. They asked me if I wanted to rent ski pants and a jacket (you read that right: rent). I said I was all set and off I went.



YongPyong will be one of the venues of the 2018 Winter Olympics and is the biggest resort in Korea. If you ask anyone in Korea where you should ski, they inevitably say "YongPyong." By New England standards, it reminds me of bigger Sunapee -- a medium to large sized mountain with groomed trails. In fact, there's not a mogul to be seen anywhere. There's also no woods skiing allowed.
The trees in between trails are not just roped off, they're fenced off!


I did most off my skiing off Dragon Peak, which is the highest point of the resort at 1,458 meters. The trail map shows that the Rainbow Slopes of Dragon Peak will host the Alpine skiing competitions for the 2018 PyeongChang Winter Olympics.
The Rainbow slopes are the expert trails of the resort but they are moderately steep. They're quite short too. Unless they're just doing slopestyle or moguls comps here, or are lengthening some trails, I can't see how these can be FIS-certified for a GS or downhill.

I did most of my skiing on the Rainbow slopes and tried to get in as many laps as I can. It was a Friday and there were a number of weekend skiers on the hill, including a university ski team and the local YongPyong precision skiing team that was filming a video. They closed of one slope for race training (Rainbow 1) and another for timed slalom runs that was open to the public like Nastar (Rainbow 2). Of all the Rainbow trails, 1 was the steepest and most challenging. The others were quite tame but fun nonetheless. While bashing gates, I met the only non-Korean person on the trail -- a British guy working in Hong Kong.

Late in the afternoon, I left Dragon Peak and headed to Golden Peak (1,127 meters) at the other end of the resort.There were these nice long cruisers off Golden Peak and I just took it easy there. One thing that I have to mention is that the lifties and staff here were so polite. Everytime you would load on to the chair, they would greet you and bow. When you get to the top, they sort of yelled instructions at you (though I didn't understand a word) then bowed really low to you as you got off. If you said "thank you" in English, they would respond with "have a nice day" with a wave. They also had these young ladies at the bottom of the lift that held up stuffed animals to greet the kids and take their pictures. Pretty neat, actually.

I promised my van driver that I would be on the road at 4pm so I skied right up to the parking lot at exactly 3:58 pm. The year and a half of ski inactivity was catching up with me at that point and my things were starting to hurt a bit. I took off my skis and jumped into the van -- and off we were down the highway back to the city life in Seoul.


If I had to ski Korea again, I would stay in the PyeongChang area and ski YongPyong and its neighboring ski area, Alpensia, which is also hosting the 2018 Olympics. Then, there's another area called Muju a little further away and Phoenix Park. Sigh, too many ski areas, too little time. Is it too early to book rooms for 2018?

When I left New England, I thought that that was the end of my skiing career. Glad to know that it's not over yet. It truly is one world under snow.
The snowmonster is back!
Ski the East? The Far East!
Here's proof that the Monster is back on snow! Feels good.
The lodge on Dragon Peak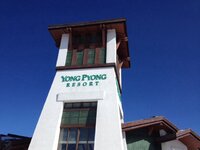 Rainbow IV, a 635 meter advanced (dark blue) run off Dragon Peak. The Yonsei University ski team was training here.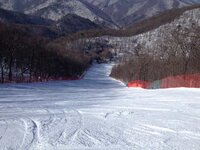 They had a slalom course on Rainbow II and I just had to bash some gates for old times sake.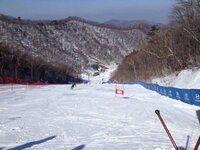 Dragon I. At 1630 meters, this was the longest and steepest run in YongPyong. Racers were training here. I can see this trail being used as an Olympic venue.
Sent from my iPhone using AlpineZone
Last edited: