Joined

Jun 3, 2008
Messages

24,840
Points

0
Website
GoPro HERO4 Silver Edition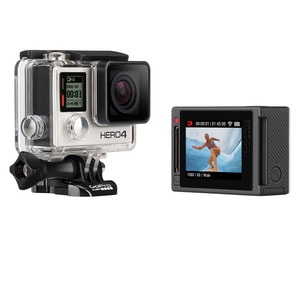 How many times have you been riding your bike, or scuba-diving, or skydiving, or whatever-ing, and thought, "I really wish I could share this experience with everyone"? Well, wish no more. GoPro stepped onto the scene a few years ago with its compact, mountable, action-ready Hero cameras, and the fourth generation you see here now comes in a few versions so you can get exactly what you need. And if you don't know what you need but want one that can do everything without breaking the bank, the GoPro Hero4 Silver Edition you see here is calling your name.
The Hero3 and the 3+ were incredibly capable cameras, but the new Hero4 generation takes things to the next level. A lot has changed, but some basics havent, such as the overall dimensions of the camera. Exterior dimensions of the camera itself and its cases are all virtually unchanged. The Hero's fantastic, wide-angle, six-element aspherical lens (f/2.8-6.0) also remains unchanged, ensuring the same stunning clarity and scope of your photos and videos, at virtually any light level, as we came to expect from the 3. Three field of view settings " ultra-wide, medium, and narrow " grant you an unmatched selection of perspectives.
And for those lower light conditions, GoPro introduces new Night Photo and Night Lapse long-exposure imaging modes. Those mesmerizing time-lapse pictures of the stars trailing through a dark sky, or the rivers of headlights and taillights that form when capturing an urban scene at night? They're yours to take now. Customizable settings for exposures of up to 30 seconds " whether taken individually or in Time Lapse mode for successive hours or exposures " mean you can capture an almost unlimited range of time-lapse events with the utmost precision.
Also new to the Hero4 is its sound-capturing abilities. GoPro fielded feedback from audiophiles and everyday users alike to fine-tune the Hero's microphone, which now captures far greater fidelity and boasts almost double the dynamic range of the 3's mic, so no sound will go undetected " at least, to us humans. Whatever it is you want to hear, see, or edit, however, you can now do it all even easier, as the Hero4 now adds Bluetooth capability alongside its WiFi connectivity for fast and efficient utilization of the GoPro Smart Remote, App, and other devices and software.
Speaking of editing and playback functionality, the Hero4 introduces a new feature called HiLight Tag that you're going to wonder how you lived without. HiLight Tag allows, well, highlight tagging, enabling you to now mark particularly important photos or footage as you're capturing them, making them easier to find later for sharing, playback, or editing. GoPro also improved its ProTune interface for the Hero4, making it now functional for both photo and video. ProTune allows fast and easy manipulation of color settings, ISO limits, exposure settings, and lots more when you're cycling through or editing what you've captured. It's another improvement that will spoil you and leave you wondering how you dealt without it before. A new Auto Low Light mode quickly and readily compensates for dim situations, and, when things are getting nutty, or when milliseconds count, a new feature called QuikCapture allows you to power-up the camera and start capturing via a single-button.
The Hero4 Silver edition you see here steps up with an all-new LCD touchscreen display, as well. Aside from just allowing you to now frame shots and adjust settings with ease, the new swipe-able display makes life with the Hero4 a breeze. Of course, the introduction of smartphone-like swiping capability might not sound revolutionary, but this screen is the first of its kind for an action camera, and it drastically alters the intuitiveness and quickness with which you can navigate the camera's also-improved menus and playback interfaces. The Silver also kicks up the resolution and frame rate capability of the Hero. Video modes of 1080p60 or 720p120 (the first number being the image resolution, the second number being the number of frames captured per second) are at still at your fingertips for most conditions, but when you really want to get serious, you can capture up to an incredible 1448p48, 2700p30, or even 4000p15. For still images, the Silver takes photos up to 12 megapixels at a rate as high as 30 frames per second " a stunning feat, especially when you see the quality of the images that result. Anyone else would swear you were wielding a multi-thousand-dollar pro rig.
The new GoPro Hero4 Silver Edition comes in one color and has Micro-HDMI, Micro-SD, USB, 3.5mm Stereo, and composite audio/video functionality. Its software is compatible with Mac OSX as early as 10.5, and Microsoft Windows as early as Vista 7. Included in the package is the following: Hero4 Silver Edition Camera, 131ft/40m waterproof housing, interchangeable Skeleton (opens for better cable access and cooling) and Touch (waterproof and touch-sensitive) Backdoors for the housing, a rechargeable Li-ion battery, 1 quick-release buckle, 1 vertical quick-release buckle, 1 curved and 1 flat adhesive mount, a three-way pivot arm, and a USB charging cable. It does not include a memory card (MicroSD Class 10 or higher is required, supportable up to 64GB).
Price: $359.99 (10% Off!)
Regularly: $399.99
Buy Now