Trees, rocks, dirt, toddler on a leash, yeah we get it. This sport is a lot more dangerous now though. In a ddition to the previous items, some other things you also might want to avoid include:
Golf balls.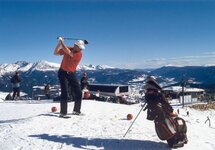 Play forts in your favorite stash. (not letting me upload image?)
http://www.whistlerblackcomb.com/~/media/20a7120120184af5800123f24f41fe03.ashx
Off-roading trucks.