Joined

Sep 1, 2012
Messages

1,654
Points

83
Location
Inspired by DLague's recent post. Anybody want to post their own arguable list of ski areas or list of other things relating to skiing/snowboarding? Five things, ten things, whatever.
Here is mine. I like pretty much all ski areas including many popular and conventional ones. But then there are those that really standout in my memory for various reasons. Here's my "arguable list" of the MOST MEMORABLE North American ski areas I've been to, in no particular order.
1. Mad River Glen, VT: I didn't ski this place until I'd been skiing for over 40 years and visited about 80 other ski areas. That made the contrast between MRG and the rest all the more stark - as in General Stark
MRG is like a trip back in time and the steepness of parts of the mountain left me super impressed with the skills of previous generations of skiers that slayed this place with their early equipment and ski techniques.
2. Taos, NM: I skied it one day in 1992 and got a taste of the unique and steep terrain. Went back for two excellent days in 2012 including a sampling of the hike-to terrain. Definitely one of the best mountains around for double diamonds and Taos the town is very interesting with strong American Indian and arts & crafts influences.
3. Arapahoe Basin, CO: Another fine mountain for advanced snowriders with some very demanding terrain. Exceptional high alpine scenery, yet not too far from Denver. The local's vibe is a nice contrast to nearby mega-resorts.
4. Whiteface, NY: If I'm not mistaken, Whiteface has the highest lift served ski terrain in the Northeast at close to elevation 4400'. Whiteface Mountain stands out impressively from the surrounding geography. It feels and skis like a very big mountain!
5. Alta, UT: I have only two days at Alta, once last spring and once about six years ago. It lived up to all my expectations; good vibe, good snow, good terrain, and more beautiful than I expected. One of the oldest continually operating ski areas in the US, Alta is an example of "the first guys there, got the best place".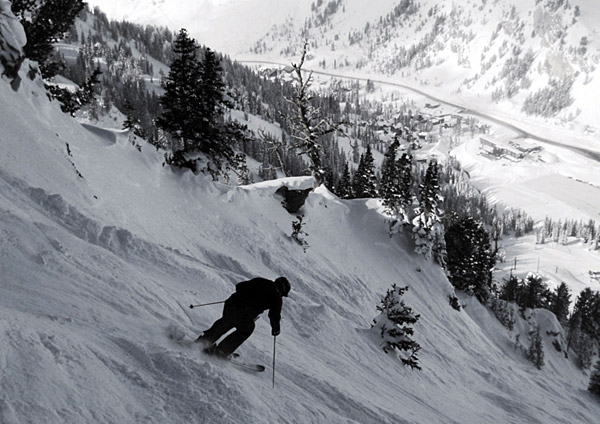 6. Jackson Hole, WY: Big, brawny, beautiful, and a true expert's mecca. Another ski area I finally got to after many years of skiing and it did not disappoint. Three days in 2015 were not enough. Also, I highly recommend you ski this adventurous and demanding place long before age 60
7. Mt. Bachelor, OR: I suppose there are other places where you can ski in 360 degrees from the summit of a lift served dormant volcano, but this was the first and only place I have done that. It provides a fascinating feeling of "point 'em in any direction and let 'em rip". The Western Cascade Mountains with lots of volcanic features look a lot different than the Rockies. The nearby city of Bend is full of microbreweries.
8. Wildcat, NH: Wildcat just does it for me. A lot of the runs fall into the hard blue/easy black category which suits me well, yet there are some liftline bump runs and off-the-map glades that can challenge the best. Polecat without question gets my vote as the best green circle run in the East. A lot of New England ski areas have pretty scenic views, but if you visit when the Mount Washington Valley has good snow cover - Wildcat has the best. The word BEST keeps popping up when I talk about Wildcat.
9. Saddleback, ME: The prettiest and best ski area I have been to that is currently lost. Great scenery, great glades, but needs help getting on sound financial and operational footing. Hopefully a grassroots community effort reestablishes this very distinctive mountain. Casablanca Glades and Muleskinner trail are two memorable and super fun attributes of Saddleback.
10. Le Massif, Canada: It feels like you are skiing next to the ocean. The St. Lawrence River is approximately 15 miles wide in this part of Quebec and the base of the lifts at Le Massif come within a few hundred feet of it. There is a legit 2500' vertical with very nice advanced runs and glades. Le Massif operates like a really good and large day-ski area, sort of the East's version of Snowbasin, UT. The crowds are often small and the surrounding environment seems quite pristine.
Honorable mention. Homewood, CA: The ski terrain isn't bad and there are scenic glimpses of Lake Tahoe from nearly every run. However, nothing prepares you for your first view of the lake from the solitude of Homewood's Quail Face sidecountry; absolutely stunning.
Last edited: