Joined

Mar 2, 2008
Messages

4,177
Points

48
Location
This is my 2nd stop on my western grand tour (
http://forums.alpinezone.com/showth...ski-bumming-season-2017-Part-II-North-America
)
I have a friend who live in Park City area. They've lived there for 7-8 years. I've been visiting them every 2-3 years. So it's time for another return visit. Plus, I've not been to the newly combined Park City plus Canyons. I had high hope to get acquainted with the "biggest ski resort of America". It's included in my Epic local pass (except Saturdays which is blacked out). What's not to like? Well, if the snow god doesn't smile, that is.
Day 1 & 2, Park City & Canyons

Condition: hard pack
Saturday 2/11, rain and very wet snow fell on the Park City mountains. The rain/snow line was way up high. So we had low expectation for the next couple days.
Day 1 (Sunday), we met up with a friend of my host. She has a condo within walking distance from the lift of PC. So she knows the mountain well, well for her kind of skiing that is.
My friends I've skied with a lot in the past. They're boarders, like most proficient boarders, they can "smell" powder stashes from the next valley.
But today, we're following someone else.
To made the task even more challenging, PC got rained on the day before! The snow/rain line was way up, just shy off the top!
First couple of warm up runs on the groomers were good considering the condition. They were soft enough to put an edge in, barely. But at 9:15, there's already a lift line. And the slopes are quite busy. Bit like a mega version of Okemo.
Looking down from the chair, we saw a run with some leftover powder and soft surfaces. But our "guide" thought the next run has better pitch. We found out the pitch was perfect, for forming moguls, which has then hardened (frozen?) into rocks!
Now the lift maze grew amazingly fast. So our group decided to move on. A few less than stellar runs later, Our host think the group is ready for some easy ungroomed blacks. But instead of taking the usual short hike, our "guide" opted to cut through some thick trees. That brought a chorus of moans and curses from the rest of the party, for the traverse had blind curves and trees that don't yield.
The resulting snow was nonetheless the best of the day, soft albeit heavy. Except it only lasted less than 10 turns. Not exactly worth the blind traverse through the thick trees. Still, after such good experience, we venture into the double black terrain off McConey Express. The terrain is perfectly fine, but the snow condition was less so, just chunky snow blocks and death cookies. We left after one run.
The crowd was worse than any I've seen out west. The hard pack surface doesn't exactly help, especially for majority of skiers who are not accustom to western "ice". There were unguided missiles coming from left and right.
After a short lunch break, we crossed over into Canyons, to the "Dream land" area. We left the crowd behind here. Except the condition wasn't any better. So a few runs later, we moved on.
By now, we had more or less enough of cruising hard pack groomers and occasional venture into inhospitable icy chunks on the ungroomed. So we took a lessor traveled blue cruiser on the far end of the mountain (Pay Day chair) back to the bottom. For once, there were no unguided missiles accompanying us so we actually got to enjoy the relatively decent condition of the groomer. (less traffic also means less scraped up surface too) We were ready to called it a day on that relatively "high" note.
The skiing may not be stellar, but you can't beat this view: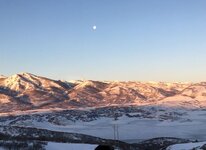 Last edited: