I spent 3 days in Jackson Hole and the skiing was fantastic by EC standards. I left at 2pm Monday bound for Sandy, UT and I was rolling through some of the most beautiful parts of rural Wyoming, Idaho, and Utah just as the sun was setting. Picturesque.
Today was the first time I skied Alta. Very small crowd today, as the locals are desperate for snow. It was cold, sunny, and fast in the AM. Classic Northeast dust-on-crust from a thick dusting the previous night. I, however, did not drive across the damn country to ski groomers all day. So I did one of the famous Alta traverses to the backside bowl, the only alpine terrain that was open. I don't know where it came from, or how it got there, but there was 3-5" of fresh snow over there, with plenty of unskied lines. Some of it was sunkissed but most of it was some of that Greatest Snow on Earth they talk about. It skied spectacular. Even with the traverse/hike in, and the traverse/transfer tow out I had a lot of fun lapping that 5ish times on the day. On my last run I hit the bottom and absolutely destroyed one of my skis....multiple core shots but edges are all in-tact. The local shop is cutting me a bit of a break and not counting all the damage (we joked I was getting the "bulk discount"). I will say, those are my Fischer Pro MTN 95 skis that I've had for three seasons now and this is the first coreshot I've gotten- those things are indestructible. Meanwhile my Dynastar skis are one year older, have less days that the Fischer's, and started off as my skinny/groomer ski before becoming my rock skis...those things have been base welded multiple times, P-tex galore, and a shop at Killington told me they got one more base grind in them then there'll be nothing left to grind. Anyway, that's a topic for another day.
I also skied a lot of the Wildcat terrain. Coverage was decent up top but the final ridgeline where it drops off was pretty shot. That area must be a TON of fun when there's 6 more feet of snow on the ground. I really enjoyed it, it was just great technical Northeast skiing- hardpack, soft snow spots, and plenty of debris. But without the ice falls, and impenetrable tree lines...if I got to something I didn't want to ski, traverse 100 feet and there's a new area that's more skiable.
Other random impressions- They had 3 fan guns for the lower mountain chutes that go to the base area. This is legit expert terrain. They just park a fan gun at the top, point it down the hill, and let it run. I wish places like Killington did this on something like Vertigo....if you're not gonna blow the whole thing, just point a snowgun from the top with long-range throw and let it run for a few days. The skiers will spread it out and it'll develop a decent base. The transfer tow is fun, trying to find the best way to hold on. I just hold on but people would use it for a speed boost, ski around me, then grab on for a second and use it for a speed boost again. I didn't get it given the less-than-stellar conditions but if you want to use more energy shaving 10 seconds off the transfer between base area, go right around me. Lots of advanced snowmaking. Tower guns with onboard compressors, top-of-the-line fan guns, tower fan guns, even weather stations on traditional "stick" snowguns that can adjust air/water ratios to the weather automatically.
Sandy/SLC suburbs is my primary location of potential move-to areas. The area is A LOT more developed than I thought- plenty of city traffic, big box stores, and even some moderate 4-6 story office buildings scattered about. And it's never-ending. Kinda reminded me of western Long Island towards the City, just never-ending suburban sprawl. That said, I bought $37 worth of groceries at Target which would've cost me $50-$55 at home in CT. And apartments are cheaper here, too. Haven't noticed a "Mormon vibe" yet through my minimal interactions with the local populace.
Brighton tomorrow, maybe a day off Thursday, then I'm thinking Alta again on Friday and Snowbird Saturday. Then since the weather here is shitting the bed I'm driving another 12 hours to Crystal in the PNW as they already have 80% of their terrain open with more storms coming early next week. Then Silver Mountain, ID perhaps and Big Sky Montana before wrapping up this crazy three week road trip!
Locals were complaining about icy groomers....I was chopping up the 3-5" of powder in their bowls for them
This was just a stupid-steep line. I've never skied anything this steep. Had a bit of trouble even with the good conditions. I kept getting tripped up with the tails of my skis hitting the mountain as I was trying to turn due to the steepness...never had that happen to me before.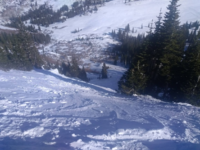 A different chute that maxed out my comfort zone. See the skier up top for reference.