Resort or Ski Area

Vail, Breckenridge
Date

Apr 15, 2022
Snow Conditions

Slush or Spring Snow
A month ago when Vail announced they would extend their closing date to 1st May, a visit during the kids Easter/spring break became a possibility for us. Having seen so much bad press about lift lines. and given this was a holiday weekend I posted to this forum for opinions on whether crowding would still be a problem and whether folks thought Vail was worth it late season.
Here is a brief report from our trip to help others who may be considering a late trip another year.
Vail
We skied 3 1/2 days at Vail from Friday afternoon through Monday (15th to 18th April).
Terrain - Other than saying they would stay open Vail had not expanded what runs would actually still be open, so we were a bit worried. Blue Sky Basin and several of the back bowls had closed, but Sun Up, Sun Down and Game Creek bowls were open and most of the front side. Game Creek and the Golden peak lifts last day was 18th.
Conditions - Still very good snow depth all over. Lower down firm in the morning, but good up higher. By early afternoon even the top was soft and lower down very heavy. To be honest we found the groomers and frontside better as the bowls were so heavy with crust underneath other than the couple runs they groomed. But was great to have that experience. On Sunday it snowed and hailed all day which gave great skiing up higher and in the trees. The best section was probably runs off Highline, Northwood, Mountain top and Wildwood.
Lines - None. Absolutely none. Also no problem getting in anywhere for dinner in the evening. In fact the resort felt pretty dead other than one or two popular bars.
Logistics - We flew out late Thursday evening and stayed at the airport Thursday night before driving up Friday morning. And yes it snowed hard going past Loveland en-route! We stayed at Vail Manor Lodge at Golden peak which was convenient for getting to the River Bahn Express lift. Included breakfast which was pretty good. Hotel seemed very quiet, by Tuesday morning it seemed we were the only ones left. As the whole resort was so quiet it was hard to imagine the lines people had complained about - but my guess is the Golden Peak side might be a good bet on a busier week to avoid some crowds.
Breckenridge
Skied one day on 19th April before heading to the airport for our red-eye back.
Terrain - Breckenridge had already posted their spring skiing plan so we knew peaks 6, 7 and 8 were open.
Conditions - Good coverage everywhere and seemed to hold up better during the day. The high alpine bowls were not as "crusty" as Vails and although the groomed runs became soft somehow it was just "soft", not that horrid grippy snow that just stops you in your tracks. We skied until last lift at 4.00 and was better conditions than Vail by 2.00 most days,
Lines - None. More people around than at Vail, but at most 3-4 groups in front of you at a lift. Felt more lively than Vail.
Disappointment - I did not get to ski off the Imperial Super Chair, we did not realize it shut so early in the afternoon. My daughter on a snowboard took three tries to make it up the T-bar (that is a LONG T-bar) so by the time we got there the lift had closed. My son and husband got there for one run and reported it was great. So I guess I just have to re-new our Epic passes this year so I can ski the highest lift in North America another year.
Logistics - Easy drive from Vail, Parked about 10 yards from the Gondola for $5. Discount for having 4 of us in the car. Easy drive back to the airport for the late night flight. But what is with that "express lane" on I70 which is not even open.....
The Obligatory Back Bowls Photo
.
Snow and Hail all day on day 2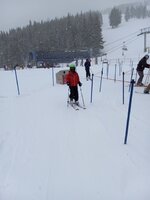 Imperial Bowl. He is missing his poles because he gave them to me on the T-bar (and at this stage I am still lapping the T-bar!)
Summary
Great trip. No lines. Pretty good snow for late season. Now we have to come back mid-winter for even better snow.