Joined

Jan 13, 2016
Messages

715
Points

28
Location
Family spent 5 days skiing and riding Big Sky this week. It was a low tide year for Big Sky this season until around February 1st this year and they have received 80'' this month which was enough to cover most of the rocks and open up everything except for the sketchiest chutes off of the headwaters area.
So, Presidents week holiday of course crowds are a concern. I had no real idea how crowded it was going to be. I've read trip reports here and on other forums. Would lift lines be manageable? Would we be skiing and riding on crowded trails?
From what I have read, besides the constant 30+ minute tram line on holidays, weekends and powder days, the only lines really form on swift current and Ramcharger. And that's mostly when Shedhorn, Dakota, Powder Seeker and the Tram are closed for Avy control work. That's pretty much what we found out as the week transpired.
Flew in Sat night and got to the condo right as it started to really snow. Winter storm warning started 8pm that night and we got in a couple hours after that. It was supposed to snow for the first three days of the trip. Sat into Sunday was the heaviest with showers lingering for the next couple of days. Sounded good to me. I think they claimed 18'' over the 3 days depending where you where on the mountain. I think the biggest surprise was Monday night overdelivered so the first three days were great.
Didn't get too many pics from the first couple of days. It was snowing on and off and grey. The top of challenger lift was just consumed by the clouds, so I didn't think it would be the best day to try and hit the tram. We got on Ramcharger at about 9:15 and we stuck to Andesite trees and trails in the AM. Mostly widely spaced trees with a consistent pitch. A couple of places that get a bit steep but they are marked Double Black on the trail map.
Andesite tree run- top entrances
and then my oldest and I headed to Shedhorn to spend the afternoon. It was a pretty awesome day. Bowls and tree runs everywhere, untracked and lightly tracked runs. Nothing too crazy over there so I wasn't worried with my 11 year old. watching the people come down from the peak, we could only see them after they emerged from the clouds about halfway down. I would imagine the top 1/2 was unpleasant skiing. Maybe, Maybe not.
We were pretty much wiped by 2:30 and agreed that we had 1 more run in us. Of course we took one of the bowls to untracked trees to get stuck in a flat spot which required a 10 minute hike out in waist deep snow. WE were soooo wiped out. To the Hot Tub!
We awoke day 2 to another couple inches. Did a few early ramcharger to thunderwolf laps with the family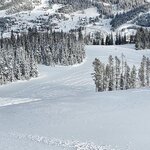 Andesite Cruiser
and then again took the oldest to check out the challenger lift. I absolutely loved this area. So many options with great steep terrain. And you can drop over and do a few headwaters chutes as well. There were a few sharks lurking but they were mostly at the top traversing to the right bowl or line. This was my 11 yo's favorite area too. He loved the carpet loader on the fixed grip. We came back here many more times throughout the week. Open bowls and chutes funneling down to tree runs that ranged from pucker worthy to just plain fun depending where you went at the top. We had another full day and I could tell my Son was getting tired from looking at his technique.
Then took the youngest for a few late laps in the Southern Comfort area. Very fun beginner area with varied terrain. Very low angled tree runs fun for a few runs. Lots of kids and beginners over here, so I wouldn't recommend this area unless you had young kids or were with a beginner. But it twas much fun in the soft snow with the 7yo
Southern Comfort area trees
Day 3 was the sleeper pow day. I think upper mountain got 6+ They were bombing the first hour or 2 and the Dakota, Shedhorn, Tram, Powder Seeker, Headwaters, and challenger lifts were on hold. The plan was to take a lap on the tram with the oldest today but once everything was open and by the time we got over there the line at the tram was obscene. So we took family laps on the Powder Seeker for a bit (very mellow bowl area) and then a few laps at challenger. After lunch back to Dakota area. The sun was starting to peek out and I heard this area gets baked out with its southern exposure. We wanted to hit it before the sun really affected it and we scored. Very lighty to untracked bowls and trees for the first hour or 2. . All pretty much single black level so it was very fun. Everone was pooped so I headed to the tram late to see if I could take a lap. still a long wait but I zoned out, turned up the tunes and eventually took a run down otter slide to marx. Very fun and you could finally see! A plus in my book.
Last edited: