Joined

Nov 18, 2008
Messages

913
Points

28
Resort or Ski Area

Bretton Woods
Date

Jan 28, 2023
Snow Conditions

Cord
Had my first day for the season yesterday at Bretton. I noticed they opened a lot of additional trails during the week, so it was finally enough to entice me to make the trip. I'd guess they had about 50% of the terrain open.
I wouldn't usually go skiing on a Saturday, but that's how things worked out. The crowds weren't too bad except for a peak about 10 or 11. I'm way out of shape, so I didn't mind waiting in the lift lines for a while to rest between runs. Unfortunately they didn't have west mountain open, since that's usually a good lift to hit when the crowds get heavy. It seems like they are pretty short staffed and don't have enough snow makers, since they've had enough snowmaking windows that they could have had it open otherwise. Hats off to the small crew for getting what they have open. Even going to the restaurant for lunch, we had to wait 30 minutes for a table with half the tables empty since they don't have enough staff to serve all the tables.
Snow conditions were pretty decent considering the warm weather and rain events the mountains are having to deal with. There's a firm base on the trails where they've done snowmaking. They got quite a bit of natural last week, but not enough to open trails without snowmaking. They had a couple glades open, but I didn't bite since I knew I'd be disappointed with the firm conditions, and I know how fun they are with good conditions. Most of the open trails had been groomed, but the ones that weren't were kind of scratchy. The groomed ones skied pretty fast and had enough loose stuff on top to be fun. They've focused on opening the green and blues, so none of their few black trails were open that I found. A lot of my usual favorites weren't open. The day started in the high 20's and gradually warmed up during the day to the point of it feeling like springtime.
So had a fun time and felt good to give the old legs a workout.
A few pics:
Not too much crowd when we arrived about 8:30, but the upper parking lot was almost full at that point.
The have removed all the ski bag racks in the lodge (aside from the pay lockers downstairs), so everyone is forced to leave their boot bags outside. Seems kind of dumb since the lodge isn't that cramped and the places inside where the racks used to be are just empty wasted space now. Didn't they get the memo that the pandemic is over?
Here's the upper lift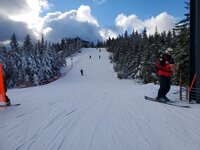 Here's the mountain top lodge