Joined

Dec 30, 2003
Messages

4,026
Points

113
Location
Resort or Ski Area

Killington
Date

Apr 14, 2023
Snow Conditions

Slush or Spring Snow
Moguls
Been stupid busy with work and a new house since about mid February which has totally destroyed my ski season, but I was able to sneak away for a few hours today and at least get one good spring day in. Or shall I say, a summer day at Killington's white sand beaches. Temps pushed 80 and skies were a brilliant blue all afternoon. Thanks to the epic March which I totally missed out on, there was still a large percentage of terrain open despite this week's blowtorch.
Hopped on the K1 around 12:30 and hit Cascade followed by Double Dipper thanks to a running Canyon Quad. Both trails well covered still, some sporadic shitty bump lines but nice conditions overall on both.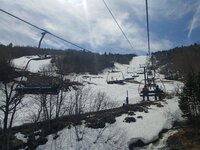 After a Canyon warm-up, traversed all the way out to Outer Limits which required a lot of skating on sticky flat tracks. It was classic OL today with good sized bumps and tight lines everywhere. Most years I would've been in heaven but I'm far from being in ski shape and I was pretty much doubled over at the bottom lol. But coverage is great still so go hit it if you're searching for good bumps.
Headed back the other way, jumping into Thimble which was thin and fun. Got booted out to Cruise Control which was fine as it was deserted and it was nice to get some wind in the face. Only Needles was running, so took that to Vertigo which had some big bumps and good coverage, then bounced out on the crossover to hit SSQ up to Ovation before lunch. Also very bumped up, and then the lower steep pitch had some deep corn areas which was a ton of fun. Have to ski some mud to get out of the bottom of the trail.
After lunch, hit the Light which still has good coverage, but somewhat sticky and full of pine needles. Headed up Canyon to Powerline which had some gentler bumps and also good coverage.9th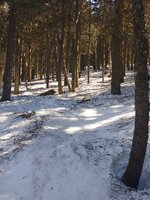 Spent the rest of the afternoon at Snowdon, hitting Low Rider, Great Bear, and Highline. Low Rider probably shouldn't be open and is very sporty in spots, so be warned. But if you like carnage like me, give it a try. Great Bear was excellent with good bumps and coverage. Highline is always a blast on a sunny day. Losing snow in a few areas but mostly well covered.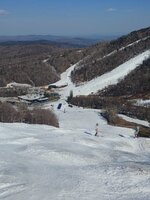 Finished up with one more Ovation run. I'd say either that or Great Bear was ROTD for me, but overall everything I skied was great for an 80 degree day.
Hoping to get up once more during Superstar season. Doesn't look as deep as normal so we'll see if they make Memorial Day or not. You never know.